When Sachin Tendulkar unleashed his bowling heroics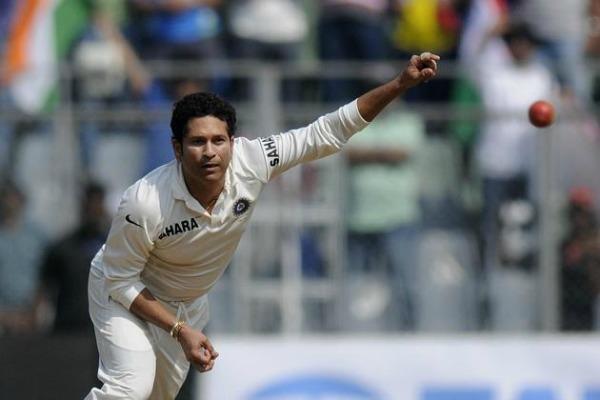 While he owned the 22 yards with his batting genius, there was always a part of him that loved bowling. But destiny had other plans for Sachin Tendulkar, who went on to become one of the greatest batsmen in world cricket. Still, the bowler in him would pop up every now and then and chip in for his team with match-winning performances.
Let's look at the 5 best bowling spells of Sachin's prolific career:
4/34: Sharjah, 1991
Sachin's whirlwind batting romance with Sharjah still gives us goosebumps. But it was at this venue that he was adjudged Man of the Match for his bowling for the very first time. India won the toss against West Indies and captain Mohammed Azharuddin opted to bowl first. Sachin was straightaway introduced as the first change bowler. Dismantling the West Indies batting line up, he picked up 4 crucial wickets. India easily chased down a meagre target of 146, thanks to Sachin's handy bowling.
Hero Cup semifinal, 1993
1993 Hero Cup Semifinal
SA Needed Just 6 Runs in One Over & 2 Wickets in hand.

But Sachin had different thoughts@sachin_rt came to bowl the last over Gave Just 3 Runs. INDIA WON!

Let's Show Same Determination during #JantaCurfew #IndiaFightsCoronapic.twitter.com/7ADs9wx6BF

— Sachin?? Tendulkar FC CrickeTendulkar (@CrickeTendulkar) March 22, 2020
It was a crucial match against South Africa, and Sachin's last over made a whole lot of difference to the outcome. The Proteas needed 6 runs to win in the final over, and Sachin conceded just 2. He went wicketless in that match, but his last over won India the game.
3/36: Chennai, 1994
Sachin repeated his 1991 Sharjah performance at Chennai, where the likes of Brian Lara and Carl Hooper were frustrating the Indian team for a wicket. Captain Azhar handed the ball straight to Sachin in a bid to get an important breakthrough. The Master didn't disappoint. Not only did he dispatch Lara, but also got rid of Jimmy Adams and Sherwin Campbell. West Indies finished with 221, and India made a meal of the chase by losing just 4 wickets.
5/32: Kochi, 1998
When Sachin Made Aussie 'Fool'.#OnThisDay 1998 Sachin Tendulkar 5/32 Vs Aus Kochi.

Sachin Fails with Bat but @sachin_rt's Bowling Win Game. Aus 202/3 need 108(120)

Sachin's Wicket-
Waugh
Bevan
Lehman
Moody
Martyn
How Old Were You When Sachin Did This??pic.twitter.com/svm3yUGIeC

— Sachin?? Tendulkar FC CrickeTendulkar (@CrickeTendulkar) April 1, 2020
It was at this venue that Sachin had picked up both five-wicket hauls of his career. And his brilliance was once again on display against a star-studded Australian side in 1998. The Aussies crumbled one after the other, owing to Sachin's impressive bowling that earned him the Man of the match award. After this match, he started featuring regularly in the Indian bowling lineup.
3/31: Kolkata, 2001
#OnThisDay 2001 At Eden Gardens

JUST ONE OVER FOR YOU MATE !!!!!!!!!

Really Speechless #Goosebumps@sachin_rt @SGanguly99 pic.twitter.com/VqJGfnsjFG

— TAPAS MAKUR (@SRT_for_ever) March 15, 2018
This Test match between India and Australia at the Eden Gardens became known for two of the greatest feats in world cricket – Harbhajan Singh's hattrick and VVS Laxman's historic 281. India sealed a magnificent win thanks to these two, and the victory became sweeter with Sachin's special contribution. Just when it looked like the match was heading for a draw, Sachin picked up 3 quick wickets in the form of Matthew Hayden, Adam Gilchrist and Shane Warne to open the doors for an unbelievable win over the Aussies.