When Lord's intruder Jarvo set up a camp on field during a cricket match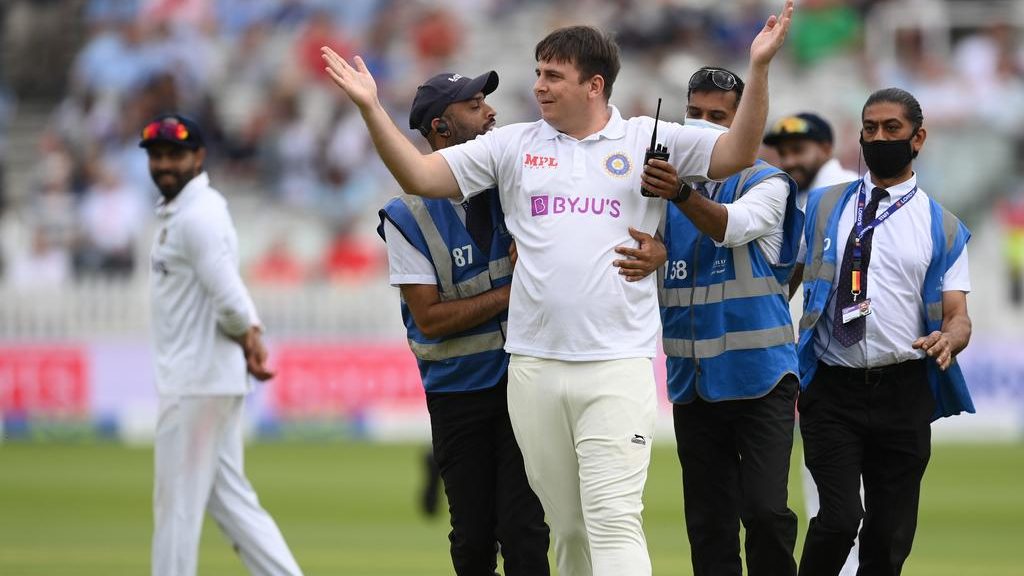 England cricket fan Jarvo has become quite an internet sensation. On day three of the Lord's Test between England and India, Jarvo jumped inside the playing field donning an Indian jersey as the play resumed after Lunch. With 'Jarvo 69' imprinted on his India jersey, he hilariously started giving instructions to the fielders to take positions, leaving Ravindra Jadeja and Mohammed Siraj in splits.
Within moments, Jarvo was surrounded by security officials, however, he was seen gesturing that he is a part of the Indian team, as he pointed fingers at them and showed them the logo on his jersey. "Some random chap in whites had made his way into the middle with the Indian players, and he stood there as if he was about to take part in the Test match," England's Michael Atherton laughed on Sky Sports.
He was soon escorted out of the park by the security officials as the proceedings resumed. Later, he took to Twitter to declare himself as "the first white person to play for India". Yes, I am Jarvo that went on the pitch. I am proud to be the first white person to play for India!!!!!", he wrote.
This was not the first time that Daniel Jarvis was involved in a notorious act. He broke in on the playing field earlier when he hilariously set up a camp in the middle of the ground before the officials got their eyes on him and took him off the field. Fittingly enough, the tent had "Trespass" written across it. The video highlighting his antics has received over 1.6 lakh views with 3.1k likes, with many commenting, "He lives his best life".
Jarvo, the professional prankster
Currently working in Dubai, Jarvis recently told Indian Sports Fan that he is now a full-time professional prankster who is behind the wildly popular "Bad Grandpa" character and counts beating British pinup Tom Daley for the Olympic Diving Gold (a prank that earned him over a million views across social media and broke the internet) and pranking Collin Morikawa at the 72nd hole of The Open Championships amongst his exploits.
During the same conversation, he told that he plans to show up at a cricketing venue in India to support his favourite team in the future.