WATCH: Virat Kohli reveals his 'weakness' in live chat with Sunil Chhetri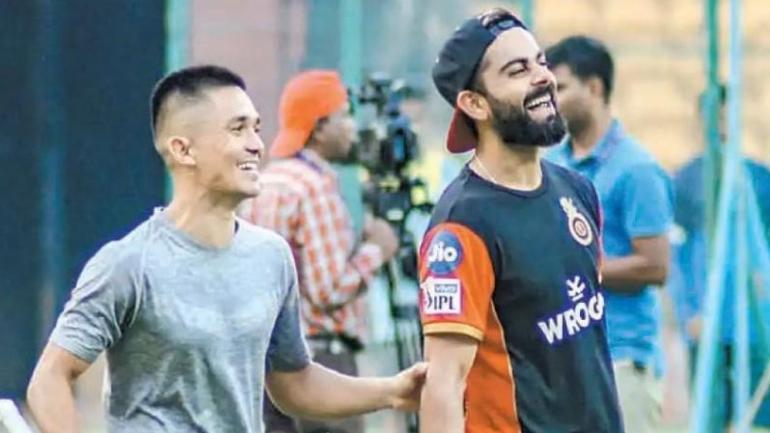 Indian cricket team captain Virat Kohli and Indian football team captain Sunil Chhetri on Sunday (May 17) set social media on fire with their hilarious live chat on Instagram. The two were involved in candid conversations ranging from topics on the field to those off the field as well.
Kohli, who is usually alert and well-prepared in his communication, was caught off-guard by Chhetri, who happened to bowl a googly to the Indian skipper. The football legend revealed how Kohli fell asleep on two occasions on the sets in London and Prague while supporting wife Anushka Sharma in her movie shoots.
'Jhoota': Anushka's prompt
While defending his actions, Kohli revealed that 'sleep' his biggest weakness, and it is especially tough if the cricketer is jet-lagged from a long journey. Which is why he dozed off on the set itself instead of going all the way to his hotel room. Kohli did try to wriggle out of the situation by refuting Chhetri's claims of sleeping in Prague but wife Anushka instantly caught his lie during the live video interaction!
Watch a clip of the video:
? | @imVkohli and @chetrisunil11 on Virat sleeping in Prague and London while Anushka is shooting + Anushka's voice cameo ? #Virushka pic.twitter.com/6AEttsHf6b

— Anushka Sharma FC™ (@AnushkaSFanCIub) May 17, 2020
Popular Bollywood actress Anushka Sharma has often been seen cheering for Kohli from the stands, whether it's an IPL game for the Royal Challengers Bangalore or the Indian team winning a Test series on Australian soil for the first time. Similarly, Kohli has also shown up on Anushka's movie sets in India and abroad as a gesture of support towards his wife.
The marriage proposal that never happened
Kohli also revealed that he never officially 'proposed' Anushka for marriage and gave all the credit for keeping their wedding a secret affair to Anushka. The cricketer also showed his appreciation for all the planning, coordination done by his wife.
? | @imVkohli on keeping their marriage preparations a secret, crediting Anushka for doing all the hard work, planning, and coordination for their marriage and not proposing Anushka for the marriage ? #Virushka pic.twitter.com/LFW3DkMuRI

— Anushka Sharma FC™ (@AnushkaSFanCIub) May 17, 2020