There should be another Super Over to decide the winner: Sachin Tendulkar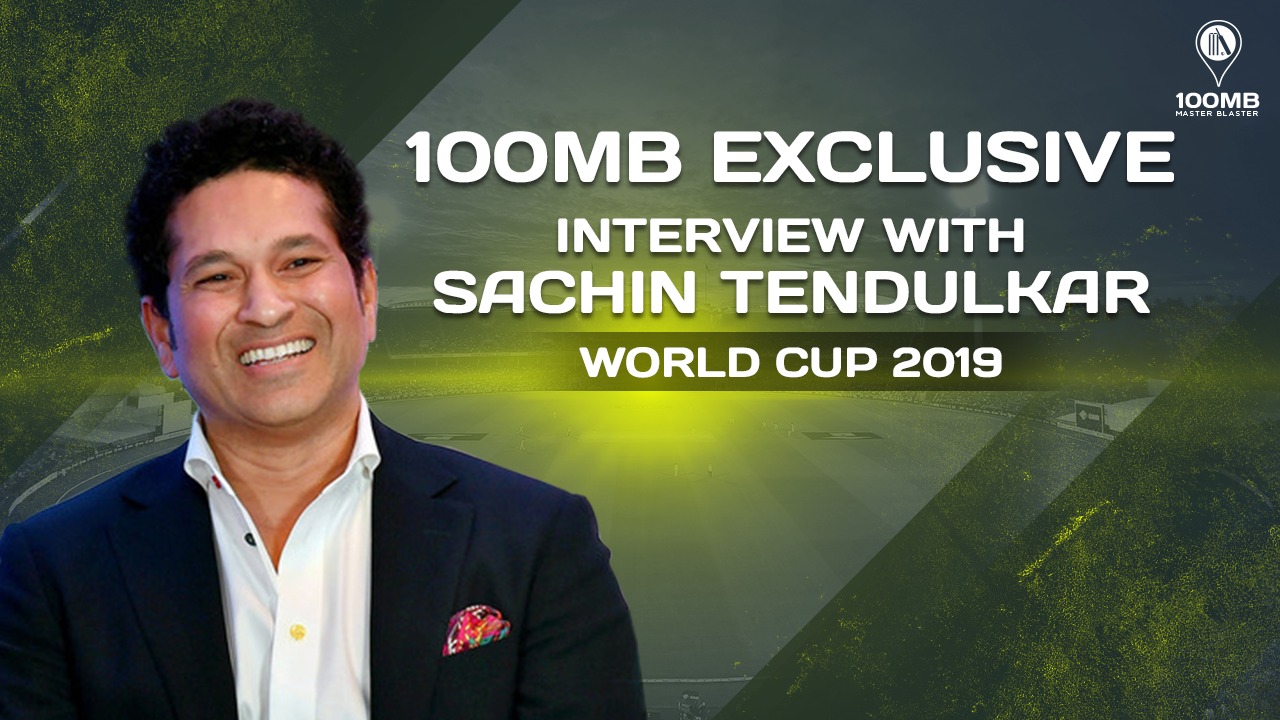 The 2019 ICC Cricket World Cup came to a thrilling end with hosts England emerging world champions for the first time in history at the Home of Cricket. Both England and New Zealand put their best foot forward in what was a see-saw contest right till the last ball. But it was the host nation that triumphed by virtue of the number of boundaries scored. Former Indian cricket legend Sachin Tendulkar made his commentary debut in this edition of the World Cup. With his expert analysis and insights, he added a new flavour to the commentary box. We caught up with the legend to know his thoughts on the tournament, India and the rest of the teams, and more. Here are the excerpts from the exclusive interview:
How much did rain affect the momentum created on the first day of the IND vs NZ semi-final? Did the pitch change over two days?
A lot depends on how you're thinking and what your mindset is. On the first day, most guys would've said 240 was comfortable to chase and if the rain hadn't interrupted, then there was a good chance. But there are no guarantees in sport, it could have gone either way.
On the 1st day, the wicket had more carry and movement off the seam and the pitch had more bite for spinners, especially when Chahal and Jadeja bowled. But on the 2nd day, the wicket became slower with less movement and very little swing on offer.
India did well to win the session of 46.1 overs on day 1, but the momentum shifted on day 2.
Does the pressure of a big match get even to a player like Virat Kohli?
I think a certain level of anxiety is always going to be there. You can say that it's just another game, a semi-final or a final but it's easier said than done. It's a sheer coincidence that his scores have been low.
A lot of people said India should've gone with 6 bowlers, turns out that we needed more batsmen. What do you think?
When you're playing with 5 bowlers, things like on-field injuries are not in your control. It's not about bowlers being able to complete their quota of overs. Even the fittest guys can pull a muscle. India could've had a 6th bowler who could roll his arm. Hardik did leave the field at the end of the 16th over. If New Zealand had sent in a left-hander like Neesham or Santner, India had Chahal who bowled only 1 over, while Jadeja had bowled 3-4 overs. We had to cover 16 overs and that's when Taylor walked in to accompany Williamson. A left-handed batsman would possibly disturb calculations.
You mentioned Kane Williamson kept his composure in this match and have also earlier spoken about his captaincy in the IPL. Any thoughts on Williamson's captaincy? He kept his cool in the face of a Jadeja onslaught.
Williamson has always been calm and composed on the field and I think that's his biggest strength. You never see him frustrated. Even in the final, New Zealand were very unlucky with the overthrow, but Williamson kept his cool. His body language, field placements, bowling changes are on point. He's a good strategist, an excellent captain who's in control even in low-scoring games. He knows what he wants to achieve for a bowler against the batsman and sets his field accordingly.
Even in the semi-final against India when Jadeja was batting at a strike rate of 130, a brilliant knock that changed the complexion of the game, Williamson didn't seem to panic.
Should the World Cup format be changed in the knock out stages to that in the IPL, so that one bad day doesn't ruin the performance of weeks despite finishing top of the table in the league phase?
I think the two teams that finish at the top should definitely have something going for them for having played consistently through the tournament.
How was India's campaign throughout this World Cup? 10 matches. 7 wins, 2 losses & 1 no result. 5 centuries by Rohit Sharma. A well-oiled bowling unit that delivered when needed.
India played well overall – the batting gave good starts, the middle order played in patches. When we got good starts, Hardik and Pant accelerated well. There were a few innings where there was not enough consistency in acceleration by the middle order. We bowled well throughout the tournament, except against England where they played better cricket.
I think Rohit and Bumrah have been the standout performers for India in this World Cup.
What batting order would you have gone with for the chase in the semis?
Without a doubt, I would've sent MS Dhoni at his usual position, No.5. With the kind of situation that India was in and the experience that he has, the need of the hour was for him to build the innings. Hardik could've batted at 6 and Karthik would've followed at 7.
As we saw in last night's match, is losing fewer wickets a better parameter than boundaries scored in a Super Over tie?
I feel there should be another super over to decide the winner, instead of considering the number of boundaries scored by both teams. Not just in a World Cup final. Every game is important. Like in football, when teams go into extra time, nothing else matters.
Given his terrible form throughout the tournament, was sending Guptill in for the Super Over the right decision? Even Ross Taylor could've played a crucial role.
I think Guptill and Neesham, with their left-right combination, was the ideal pair for New Zealand. Neesham is a clean hitter of the ball and Guptill can strike hard as well. Taylor would've been the perfect batsman to follow at No.3.
What is the magic of middling scores that teams find it tough to chase? 240-250 scores produced such engrossing contests.
We've seen quite a few 240-250 scores in this tournament. What I've liked about these totals is that the bowlers have had fair opportunities to put pressure on the batsmen. Bowlers bowl 40 overs with field restrictions and have only 10 overs without them.
In the last 6 years, the balance has tilted in favour of batsmen because there's no reverse swing on offer with 2 new balls. The pitches have also become more batting-friendly with different field restrictions. Spinners who bowl in the middle overs have 5 fielders inside the ring, which puts more pressure on them.
I think the fans enjoy seeing a total of 240 on the board a lot more than 325. In a high-scoring match, the batsmen usually dominate, and the bowlers are constantly looking for cover. But in low-scoring games, the batsmen must apply and stay there to get those crucial runs against bowlers who are running in with their tails up. In fact, some of the batsmen did stay there and got more runs. This pattern of batsmen being made to work hard by the bowlers has been a welcome change in this tournament.
Could New Zealand have shown some more intent while batting in the final overs of the first innings against England?
There was no lack of effort from the New Zealand batsmen. They tried hard but the ball was constantly nipping around, making it difficult for the batsmen to score.
What did you say to Kane Williamson when you gave away the Man of the Series trophy to him?
I told Williamson that it has been an absolute joy to watch him play and that he's had a fabulous tournament.