Hitman Special: 5 knocks that define Rohit Sharma's career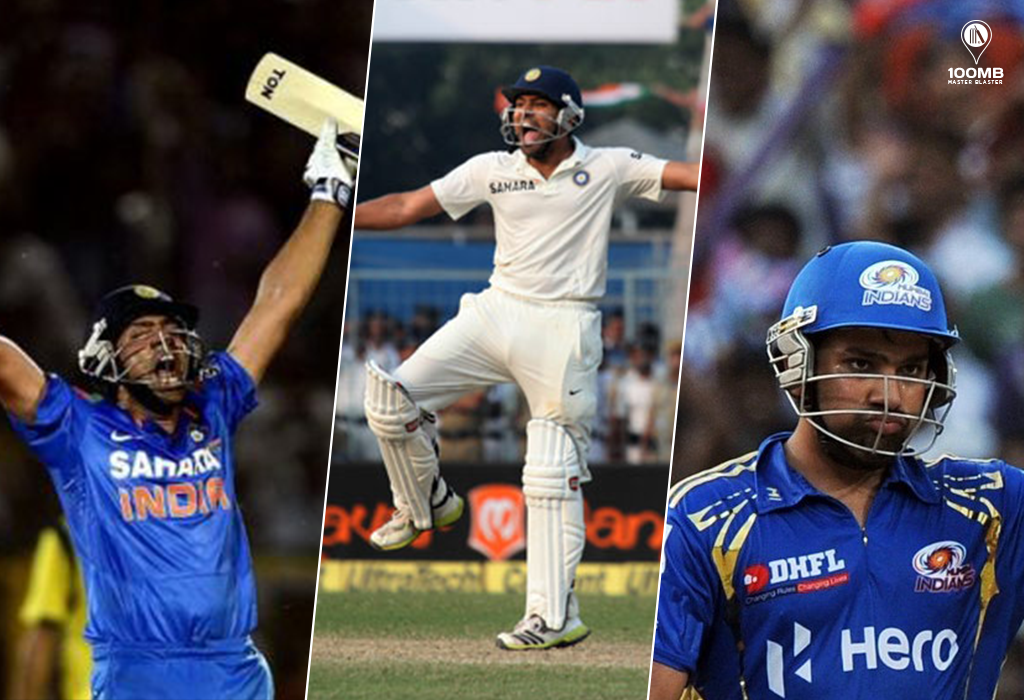 There are other batsmen. And then there's Rohit Sharma. No other current batsman in world cricket has attracted equal amounts of criticism and appreciation at the same time. You either love him or hate him, there's no mid-ground. Rohit's arrival in international cricket was a mixed bag of sorts. But the 'Hitman' of Indian cricket has miraculously turned things around since then.
The year 2013 was the beginning of Rohit 2.0 aka Hitman – a much-loved and respected version of the quiet, unassuming chap who'd often get lost in the Indian middle order. The reincarnated, not-so-quiet version was the result of a masterstroke by MS Dhoni. Captaining the side then, Dhoni promoted Rohit as India's opening batsman in ODIs. The rest, as they say, is history.
Over the last 13 years, 'Hitman' Rohit Sharma has given his fans plenty of performances to cherish. But some knocks have played a special role in transforming him into the destructive batsman that he is today.
#5: 66 vs Australia, Sydney (2008)
At the historic SCG against then World Champions Australia, Rohit gave one of the earliest glimpses of his enormous talent with a match-winning 66. Batting at No.5 in the 1st Commonwealth Bank Series final, a calm and collected Rohit played the perfect to anchor to Sachin Tendulkar, who was taking the attack to the Aussie bowlers en route his unbeaten 117. Rohit fell in the 42nd over but not before getting India closer to the target of 240. India went on to win the match in 45.5 overs.
#4: 109* vs Kolkata Knight Riders, Kolkata (2012)
Much before he displayed his breathtaking batting at the international level, 'Hitman' Rohit was already becoming a force to reckon with in the IPL. After helping the Deccan Chargers win the 2009 edition, he was bought by the Mumbai Indians. And in 2012, he struck his first IPL century – an unbeaten 109 against KKR at one of his favourite cricket grounds in India, the Eden Gardens. Such was the impact of Rohit's phenomenal knock that Brett Lee, KKR's most experienced bowler, turned out to be their most expensive on that day. He ended up conceding 44 runs in 4 overs!
#3: 209 vs Australia, Bengaluru (2013)
One day before Diwali celebrations began in the country, Mr. 'Lazy Elegance' ensured there was no shortage of fireworks. On a buzzing night of November 2, the crowd at Bengaluru's M. Chinnaswamy Stadium witnessed India's third and Rohit's first double century in ODI cricket. Shoulders dipped, faces buried, the Australians couldn't believe what they were seeing. 12 fours, 16 sixes, 222 minutes of carnage – all this in just 158 balls! Unsatisfied with just one double hundred, Rohit went on to add two more to his kitty in the next few years. But it was at Bengaluru that the seeds of his ominous capabilities were sown.
#2: 177 vs West Indies, Kolkata (2013)
Source: The Indian Express
Just a few days after he had barely recovered from the Bengaluru run-fest, Rohit made his foray into Test cricket. With back-to-back hundreds in his first two Tests at Kolkata and Mumbai, he announced his arrival in red-ball cricket with a bang. The first one, a swashbuckling 177, was extra significant because of the position at which it was scored – Rohit batted at No.6 back then. It became even more special when he was declared 'Man of the Match', a rare feat to achieve on your debut Test. He went on to repeat the feat a week later in Mumbai, which was Sachin Tendulkar's final appearance in international cricket.
#1: 212 vs South Africa, Ranchi (2019)
Having proved his mettle as a limited-overs beast, Rohit set his eyes on conquering the realms of Test cricket. Despite a fruitful Test debut, he could not establish a regular place in the Indian Test team due to patchy performances. Once again, the idea of promoting Rohit to the opening slot worked in his favour. With erstwhile openers Shikhar Dhawan and Murali Vijay out of the squad, this was a golden chance for Rohit. And he grabbed it with both hands in the home series against South Africa. With twin hundreds in the first Test, he went on to score his maiden Test double in the 3rd Test at Ranchi. If there was even an iota of doubt about his temperament in Test cricket, it was wiped away with those 28 fours and 6 sixes on that day.
Of course, a special mention ought to be given to all the big hundreds he's gotten outside of India. From the fast, bouncy pitches in Australia to challenging conditions in England, Rohit proved he's no less when it comes to proving his mettle in foreign territory. The peak of his white-ball career? Those 5 marvellous centuries in the 2019 ICC Cricket World Cup in England!