The Extras – Weekly round-up of cricket's major happenings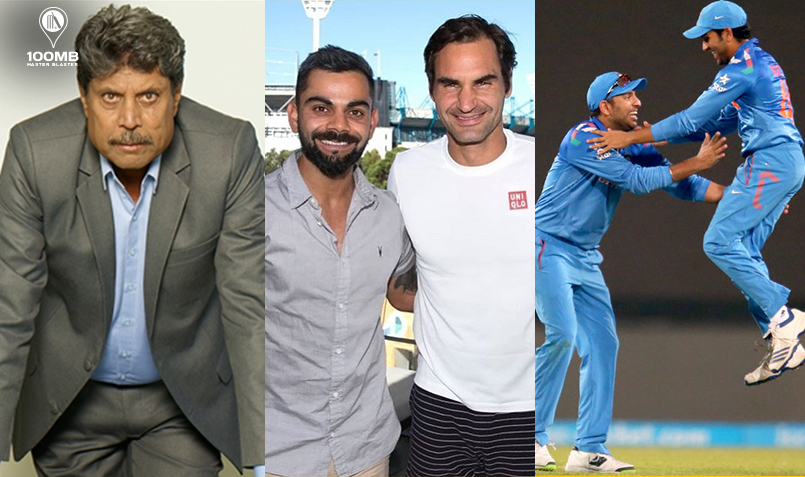 The Coronavirus pandemic which has spread across the globe has brought all sporting activities to a grinding halt. Even cricket hasn't been spared with matches and tournaments being cancelled or postponed at a rapid rate. Like most of the world, cricketers have been stuck at home, which has allowed us to see a different side to their personality away from the heat of the action. Many have kept active on social media, keeping us updated with their daily happenings.
Here in the Extras, we take a look at what the players have been up to over the past week:
Federer has a challenge for Kohli
In times of isolation, the GOAT of tennis, Roger Federer has been keeping himself pretty busy. He has been practicing some tennis drills alone, urging his fans to do the same and share their videos. Federer has also been sharing their videos, providing valuable tips, becoming a virtual coach for the whole world. Federer then took things to the next level, challenging many famous athletes around the world. One of the athletes who Federer tagged was none other than the Indian skipper himself, Virat Kohli. Kohli is yet to respond to the challenge but expect an innovative response soon.
War of words brewing between Kapil, Shoaib
Former pacer Shoaib Akhtar has become a YouTube sensation these days, with his opinions on various topics often going viral. In his most recent outing, Akhtar suggested that India and Pakistan should organize an ODI series to raise funds for the battle against Coronavirus. His opinion though wasn't shared by the legendary Indian all-rounder Kapil Dev. He hit back claiming that India did not need the money and organizing a cricket match for money was simply not worth the risk. Hopefully, the pair can find something to agree upon soon.
Rohit fails miserably at quiz about his own career
.@YUVSTRONG12 had a special quiz lined-up for the Hitman!

How many did you get right?#OneFamily @ImRo45 pic.twitter.com/IdlUyIYClj

— Mumbai Indians (@mipaltan) April 9, 2020
As cricketers are adjusting to life under isolation, conducting Instagram live videos has become quite the rage on social media. One of the recent ones which became a viral sensation was the one conducted between Yuvraj Singh and Rohit Sharma. During the chat, Yuvi decided to conduct an impromptu quiz session, quipping the Hitman about his own career. In the session, Rohit could not muster up a good performance, only managing to correctly answer 5 out of the 10 questions. Now we know which aspect of his game Rohit needs to work on next!
Buttler raises a big amount in the battle against Coronavirus
As we had previously covered, Jos Buttler was trying his level best to help the healthcare workers in the fight against COVID-19. Auctioning off his World Cup-winning jersey, Buttler has now managed to raise over 65,000 pounds for the NHS. The jersey was signed by all the members of the England squad and was auctioned off on E-Bay. A highly successful effort from the wicketkeeper-batsman indeed!