The Extras – Weekly round-up of cricket's major happenings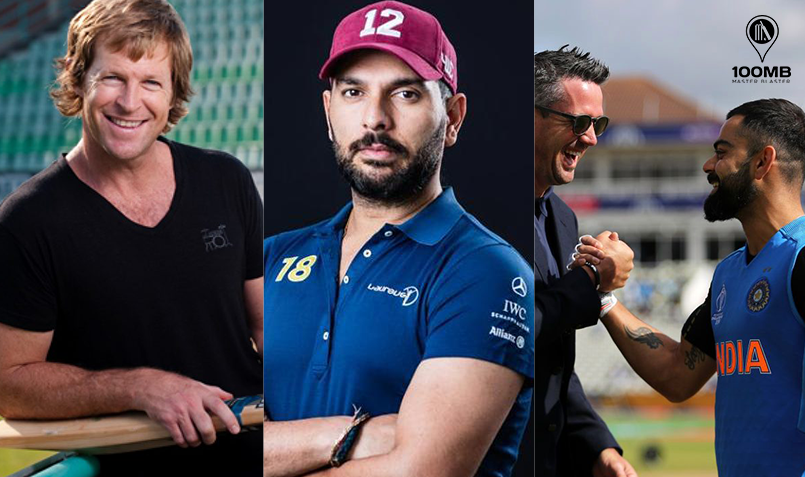 With live cricket on pause, many cricketers are making the most of their time on social media platforms. Although the coronavirus pandemic has stopped every bit of live-action, the passing week saw plenty of 'live's and banter amongst cricketers. While Yuvraj Singh and Rohit Sharma went down the memory lane, Virat Kohli and Jonty Rhodes engaged in interesting conversations.  Here are 'The Extras' from the week that went by.
Also read: Birthday wishes pour in on 3 legends via Twitter
Yuvraj Singh and Rohit Sharma roll back years
India's ace all-rounder Yuvraj Singh has been very active on social media platforms after his retirement from international cricket. During the lockdown, he has hosted chats with many active cricketers and has narrated a few untold incidents. On this occasion, nostalgia got better of him as he posted a sweet picture of himself with his former teammates – Virender Sehwag, Ashish Nehra, VVS Laxman.
When your parents don't pay your mobile phone bill after a bad performance 😆! #throwback to days without 📱😇 @virendersehwag @VVSLaxman281 pic.twitter.com/qF8LIUCSt6

— yuvraj singh (@YUVSTRONG12) May 24, 2020
Rohit Sharma also engaged in the throwback series and posted his own photo from 2009. It includes Rohit, Suresh Raina and Pragyan Ojha while they were touring New Zealand.
Former RCB teammates engage in banter
Much like Yuzvendra Chahal and David Warner, England's legendary batsman Kevin Pietersen has also been bitten by the TikTok bug. Thus when he recently tried troll Virat Kohli for posting a throwback picture, Virat gave a witty reply. When Pietersen asked Virat to shave his beard, the Indian batsman replied that it is "Better than your Tik Tok videos."
View this post on Instagram

A post shared by Virat Kohli (@virat.kohli) on
Jonty Rhodes names his favourite fielder
The South African legend revolutionised fielding single-handedly in the 90s. He sparked a generation of sharp fielders who added a new dimension to the game. Jonty Rhodes in an Instagram chat with India's Suresh Raina revealed that Raina is his favourite fielder. "I have always been a great fan of you as a fielder because you remind me of me. I wish I was a young man like you. I know what it's like in India, I know how hard the fields are. So if you are driving around all the time, you are fully committed," Rhodes said about Raina.
View this post on Instagram

A post shared by Suresh Raina (@sureshraina3) on