South Africa and New Zealand: the World Cup trilogy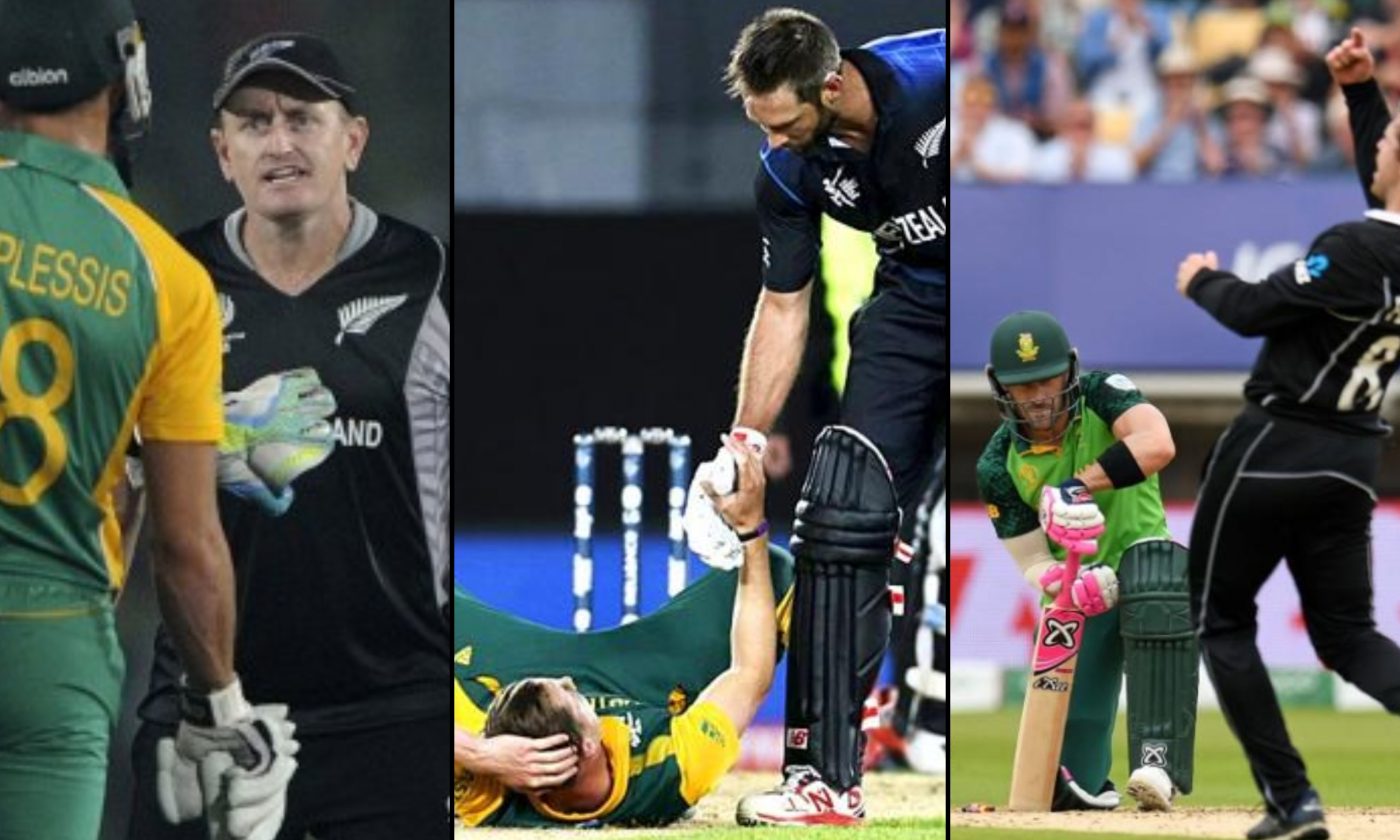 South Africa and New Zealand are two major Test playing nations who are yet to win a World Cup. Yet, these two sides have produced thrilling encounters in the competition, especially in the last three editions. Here's how their encounters from 2011 to 2019 interconnect –
World Cup Quarter-final, 25th March 2011, Dhaka
Morne Morkel charges out of the crease against Luke Woodcock and is holed out at long-off. South Africa fall short by 49 runs and crash out of the World Cup.
World Cup Semi-final, 24th March 2015, Auckland
Five runs needed off two balls, Grant Elliott smashes Dale Steyn for a six over long-on. The Proteas are stunned into disbelief as another dream ends into a nightmare.
World Cup Group game, 19th June 2019, Manchester
Kane Williamson is facing Andile Phehlukwayo. Needing seven from five balls, the skipper slog sweeps Phehlukwayo for a six. A dab on the off-side completes New Zealand's win. South Africa's hopes of progression become mathematical.
…
In a total of 70 ODI encounters, South Africa dominate New Zealand with a win record of 41-24. However, in the World Cup, the Blackcaps reign supreme with a lead of 5-2 in seven matches. On 19th June 2019, New Zealand added another victory to their tally and now stand at 6-2 after eight games.
When it comes to the knockouts, it is New Zealand who hold the upper hand over South Africa. The Blackcaps knocked out Proteas in 2011 and 2015 World Cup and nearly repeated the treatment in 2019. The first chapter of this trilogy took place in Dhaka.
The collapse
When New Zealand faced South Africa in the quarter-final of the 2011 World Cup, the green team were favourites. South Africans entered the game as table-toppers whereas New Zealand had finished fourth in their pool. At Dhaka, New Zealand batted first and could only post 221/8. South Africa began the chase confidently and at 108/2, their spot in the semi-final was all but confirmed.
Jacob Oram, New Zealand all-rounder, plucked a magnificent catch at deep midwicket to break the momentum with Jacques Kallis's wicket. Next, JP Duminy edged a ball onto his own stumps. Two balls later AB de Villiers was run out while responding to Faf du Plessis' call.
New Zealand smelled blood as they sledged and pressurised the batting side. The number of close-in fielders increased and the dark clouds hovered over South Africa's chances. Oram picked three wickets on the trot as South Africa collapsed to 172 all out. The Proteas were cruising to a win but lost out badly under pressure. The five-letter word starting with C kept haunting South Africa.
The heart-break
These two confronted each other again in the semi-final of the 2015 World Cup. On home tracks, New Zealand were playing an attacking brand of cricket. McCullum's men breezed into the semis. South Africa had assembled their best squad ever and looked set for their maiden championship. Two super teams played out an epic at Auckland. The pendulum kept swinging from one side to another and it all came down to 12 runs from the last over.
Grant Elliott, born in South Africa but playing for New Zealand, delivered the knockout blow by smashing a six on the penultimate ball. Many of the South African fielders stayed in their position while some gave a way to their tears. As New Zealand progressed to their maiden World Cup final, South Africa faced their most painful exit.
The disaster
An indirect exit loomed over South Africa when they took on New Zealand at Edgbaston in the 2019 World Cup. The Proteas had lost four of their six matches and another loss would push them on the brink of an exit. Batting first, they laboured to 241/6. The team sensed a spark when they snared three quick wickets to leave New Zealand reeling at 80/4. However, Kane Williamson was still at the crease.
Garnering support from his all-rounders, Williamson batted calmly through the tough phase. While guiding the team through, he received enormous unintentional help from the South Africans. There were misfields, there were no-balls and there were dropped catches. It was enough for Williamson to carry the Kiwis to a sensational win. This was New Zealand's fifth straight win over South Africa with last three resulting in dire consequences for the green team.
….
Rain, misfields, dropped catches, missed run-out opportunities and panic in crunch situations are all the elements that you will typically find in South Africa's World Cup disasters. This match against New Zealand in 2019 had it all. It also included a non-appeal of an outside edge.
All said and done, the last encounter was the perfect sequel in New Zealand-South Africa World Cup rivalry. Both the teams have combined to produce three World Cup classics in three tournaments so far. Let's await the 2023 World Cup.