Sheldon Cottrell's salute celebration – the backstory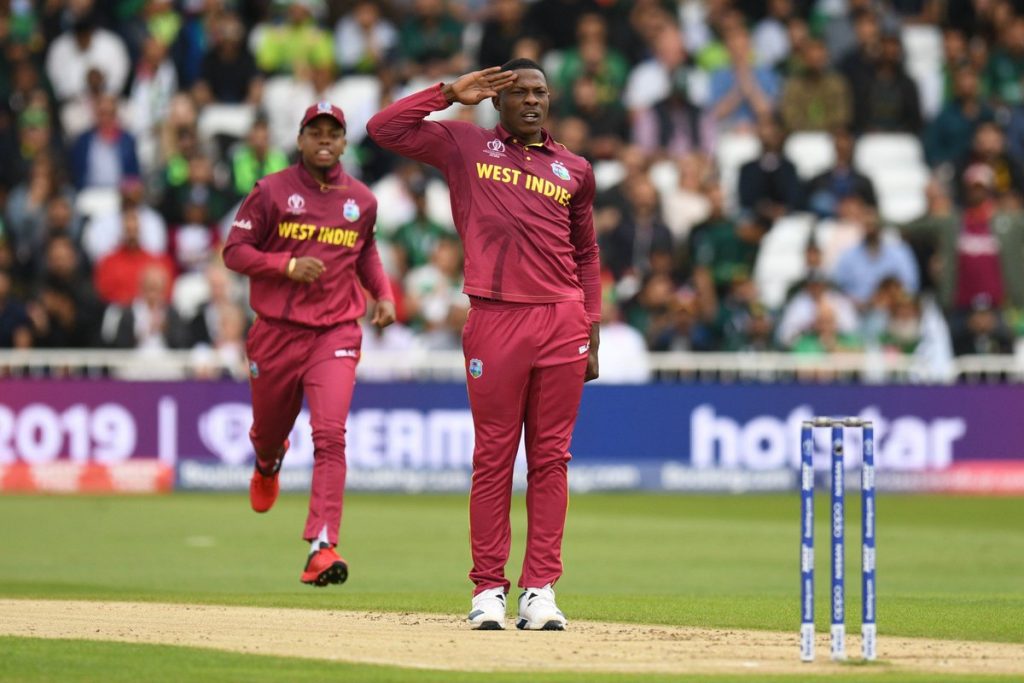 In the 1970s and 80s, West Indies were the ruling empire of cricket. Soon enough, their grip loosened and other teams caught up. But in one aspect, the West Indians have always remained at the top – celebrations. For years, the Caribbean boys have been the trendsetters when it comes to celebrating a milestone. The likes of Chris Gayle, Dwayne Bravo, Kesrick Williams are a few famous names in this field. One of the most discussed West Indians in this regard is the pace bowler Sheldon Cottrell.
Cottrell is a left-arm bowler who hails from Jamaica. The 29-year old bowler is playing in his maiden World Cup and is making news with his every move. Cottrell took a stunning catch at the boundary yesterday to dismiss Steven Smith. But the most talked-about point about him is obviously his celebration after taking a wicket. The bowler breaks into a soldier's march and ends it with a flourishing salute. The most interesting part is that this unique celebration has a backstory.
Speaking to BBC earlier this year, Cottrell explained, "It's a military-style salute. I'm a soldier by profession. Me saluting is just to show my respect to the Jamaica Defence Force.  I do it every time I get a wicket. I practised it for six months when I was training in the army."
Sheldon Cottrell's salute is actually great – and for those still not sure, here he is teaching some school kids in Nottingham how to do it. Good on him pic.twitter.com/lwtDVRDran

— Ali Martin (@Cricket_Ali) June 6, 2019
Cottrell made his international debut in the Kolkata Test against India in 2013. He was in and out of the team until he established himself in the side recently. His best bowling figures in ODIs (5/46) were recorded against England at Bridgetown in February this year.