On This Day: Birth of Trinity – Three Caribbean legends of different eras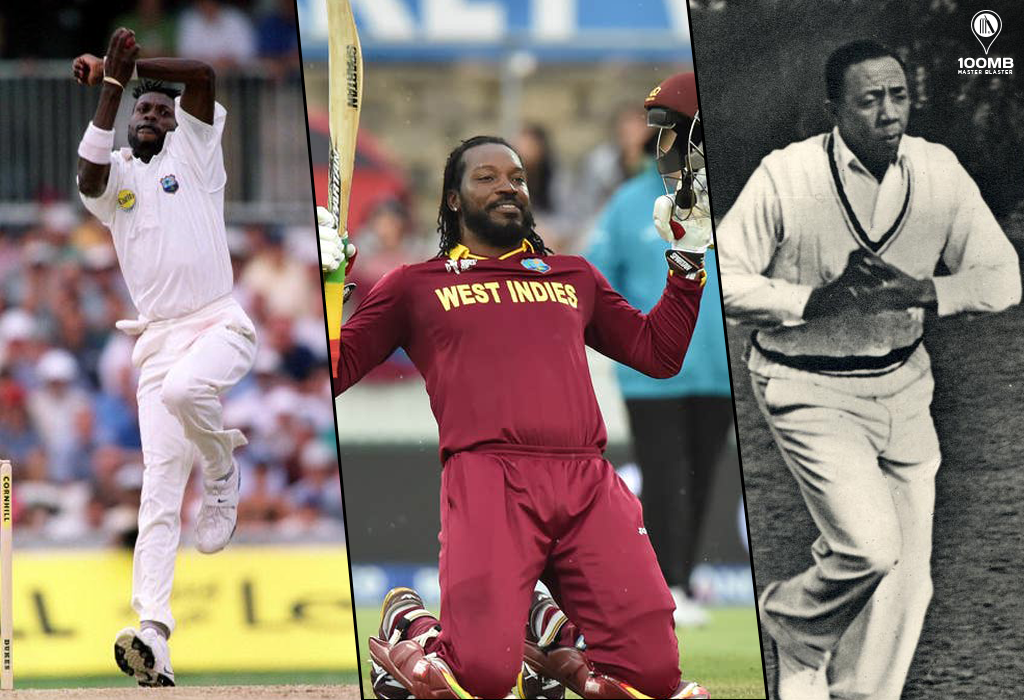 The international cricket history of West Indies stretches back to 1928 when the islands played their first Test against England. Since then the Caribbean has produced a number of legends who have graced the game of cricket. From powerful hitters to ferocious bowlers, the West Indies have celebrated them all. 21st September is a special day the cricket team on which three of its legends were born.
Chris Gayle – 1979
Gayle owns magnificent records in both ODIs and Tests but they pale in comparison of his T20 heroics. The 40-year old will forever be hailed as a giant of T20 cricket. Playing in almost every T20 league around the world, Gayle has smashed 23 centuries in the 20-over format so far with no one else even making 10. He also owns the record of the highest individual score in T20s (175 not out).  His tally of 13,000 T20 runs is unmatched and is likely to stay that way for many years to come.
Debuting in 2000, Gayle's last international venture was the 2019 home ODI series against India. The opener has played more than 100 Tests with 7,000-plus runs. He is also one of the only four batsmen to celebrate two triple centuries in Test cricket. In 301 ODIs, he has amassed 10,480 runs with 25 centuries. He became the first batsman to score an ODI double century in the World Cup. With two T20I hundreds on his name, Gayle is the only batsman in the world to score a Test triple, ODI double and T20I ton.
Curtly Ambrose – 1963
Image courtesy: Sportskeeda
Following the long lineage of legendary fast bowlers from the Caribbean, Curtly Ambrose secured a place of his own. Pairing up with Courtney Walsh, the tall pacer kept the fierceness of the Carribean side alive. In his 12 years from 1988 to 2000, Ambrose bowled plenty of memorable spells.
His 8/45 against England at Bridgetown, 6/24 against the same team at Bridgetown to skittle them for 46 and 6/34 to stop South Africa from winning their maiden Test were some of Ambrose's best spell. His most talked-about effort came at Perth against Australia in 1993 where he took seven wickets while conceding only a run. Averaging only 20.99 in Tests, Ambrose played 98 Tests snaring 405 wickets. He took another 225 wickets in 176 ODIs.
Learie Constantine – 1902
Image courtesy: People Pill
18 Tests, 635 runs and 58 wickets. But these numbers do not tell why Constantine was one of the most famous West Indian cricketers ever. The Wisden notes him as the finest fieldsman and one of the most exciting allrounders the game of cricket has known. The Trinidadian made his Test debut in the team's first-ever Test and also took the first wicket for West Indies in Test cricket. Later in the 1928 tour, he impressed the English crowd with his stunning all-round performance against Middlesex. He was signed up for the Lancashire League straightaway.
Constantine spent the next few years playing league cricket for Nelson. He made sporadic appearances for West Indies team. In 1930, he played a crucial role in securing the first-ever Test win for the Caribbean by taking a nine-wicket haul. The second World War ended his cricket career. Constantine entered politics in his second innings. He returned to England as High Commissioner for Trinidad. He was awarded the MBE and knighted in 1962. Trinidad posthumously awarded him the Trinity Cross, country's highest honour.