On This Day: Shane Warne's masterful 'Ball of the Century'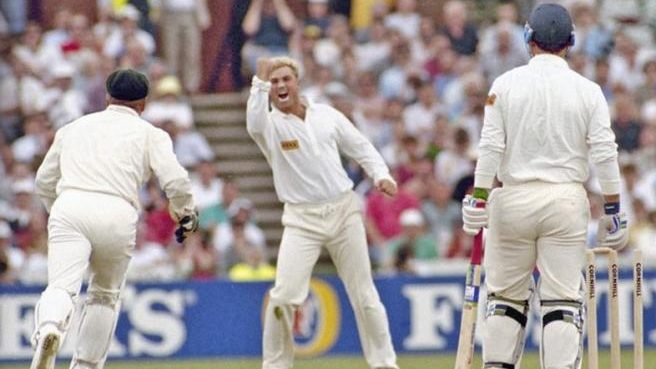 The charismatic Shane Warne was only 11 Tests old when Australia travelled to England for the 1993 Ashes series. The first Test was played at Old Trafford, Manchester from June 3rd to 7th. It was the same Test that witnessed a magical moment in Test cricket's rich history. That moment had Warnie's name written all over it. On this day, in 1993!
Day 1: June 3
England won the toss and elected to bowl on the first morning. Australia started well, with opener Mark Taylor's belligerent hundred setting the tone for the rest of the innings. Together with Michael Slater, he added 128 runs for the 1st wicket. But a ferocious spell of off-spin from England's Peter Such (6/67) led to a sudden collapse, and the Aussies eventually folded for 289.
Day 2: June 4
The stage was set for England, who'd have thought they did a fine job with the ball. Yet, their openers – Graham Gooch and Mike Atherton started cautiously. A steady 71-run stand came to an end when the mighty Merv Hughes got Atherton caught behind. Out came Mike Gatting at No.3, England's former captain and one of those rare batsmen who could play spin well.
Gatting faced 11 deliveries for his 4 runs before Warnie came into the attack. It was a big moment for the legspinner, who was about to bowl his first ball in an Ashes Test. The spectators at Old Trafford waited curiously, as a 24-year-old blonde-haired Aussie set the field with his captain, Allan Border.
There he was – taking a nice, short run-up, hands swirling sideways, followed by the right arm unfurling a loopy delivery. It looked like a wide going down the leg side – almost an embarrassing start for a spin bowler. But it wasn't. Gatting stretched a bit forward, thinking the same but didn't get to the pitch. Drifting further down the leg side, the ball hit the turf, cracked back across Gatting and eventually hit the top of off-stump!
A bamboozled Gatting couldn't fathom what had just happened. The crowd couldn't believe what they had just witnessed. As he made the long walk back to the pavilion, Gatting looked back with a look of disbelief on his face, wondering – how on earth was that possible? The Aussies, meanwhile, surrounded Warne for celebration.
It was the delivery that injected a new lease of life into the dying art of leg-spin. It was the delivery that went on to be famously known as the 'Ball of the Century'.