On this day: Pakistan said MisYou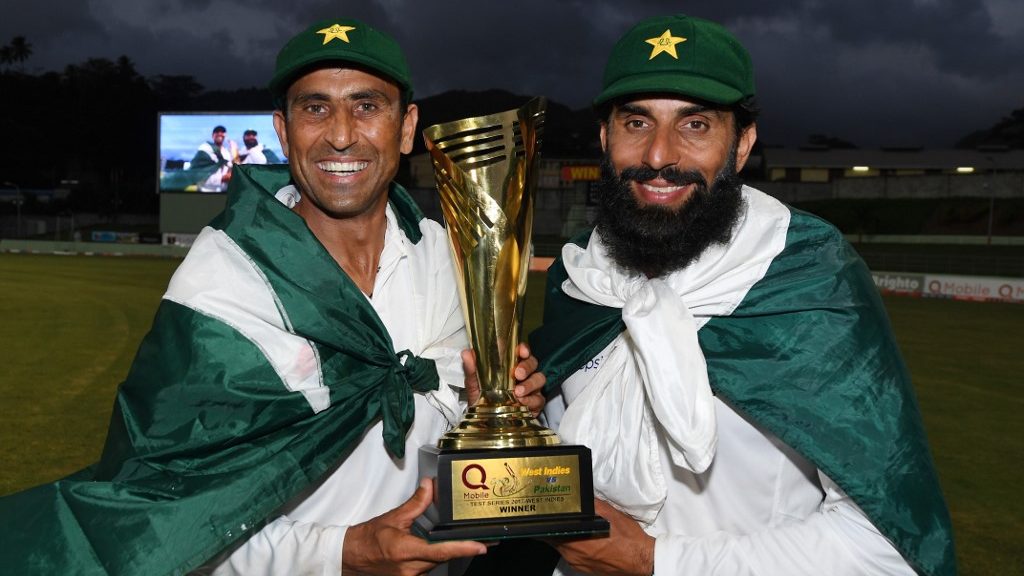 14th May 2017 was an eventful day in Dominica. This was the fifth and final day of the deciding Test match between West Indies and Pakistan. The visiting side was all over West Indies in the first Test and the hosts bounced back to claim the equalizing 106-run victory. The game was in balance on the last day of the 3rd Test yet there was another cause that kept fans hanging.
This would be the last Test match for Younis Khan and Misbah-ul-Haq. In one day, Pakistan would lose their highest run-getter and the most successful captain. It was quite a jolt for the Asian team as they lost two stalwarts of their middle-order. Thanks to Shannon Gabriel's mighty heave, the #MisYou duo received an amazing parting gift.
On the last day, West Indies needed 297 runs to win with nine wickets in hand. They lost three more wickets till the lunch thus ending the hopes of a successful chase. The only way out for the West Indies was to draw the game. Pakistan kept taking wickets from one end as Roston Chase (101 not out) fought valiantly at the other. 
The match came down to the final two overs with the last pair at the crease. On the last ball of the penultimate over, Gabriel went for a slog but failed to connect. The inside edge ended up disturbing the woodwork and Pakistan celebrated their maiden Test series win in the Caribbean islands.
The triumph added another feather in Misbah's cap. Captaining Pakistan cricket team was often touted as the most difficult job in cricket but the Punjabi captain handled the responsibility successfully for around seven years. Misbah led the Green team in 56 Test matches with 26 victories – both are national records. Apart from his leadership, he also added 11,432 international runs for Pakistan. He was a prolific run-scorer in all three formats. Misbah briefly held the record for joint-fastest Test century as well.
Younis Khan retired as the highest run-scorer for Pakistan in the longest format. In 118 Tests, the right-hander amassed 10099 runs at an average of 52.05. He scored 34 centuries in his career, nine more than second-placed Inzamam-ul-Haq in the most centuries list. He is also one of the four Pakistan batsmen to score a Test triple hundred. A career spanned over 17 years, Younis retired as Pakistan's third-most capped player. 
The joint retirement of Misbah-ul-Haq and Younis Khan left a huge void in Pakistan cricket, one that they are still trying to fill. It was truly an end of an era.