On this day: India's immortal comeback at Lord's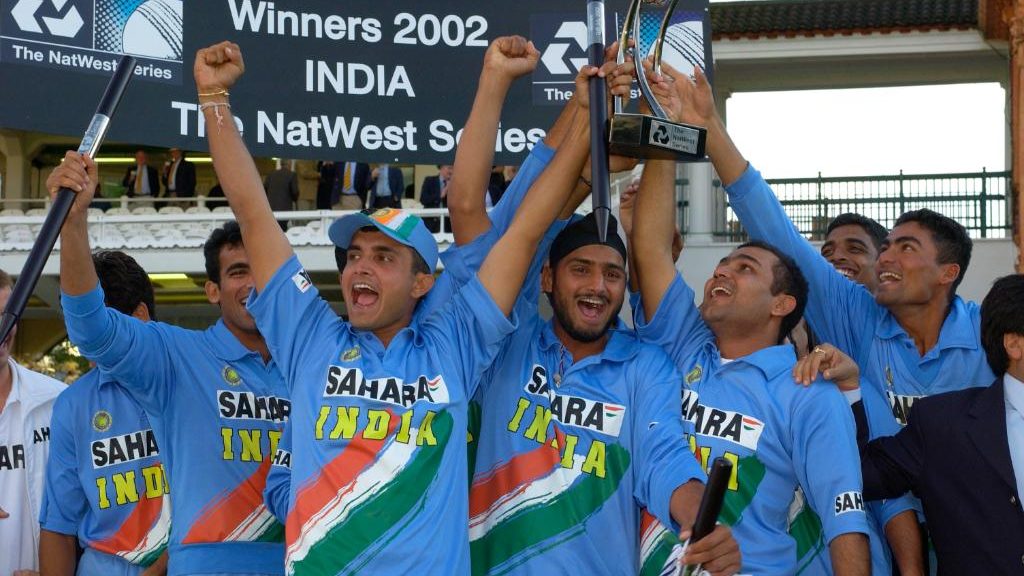 Till 13th July 2002, a target above 300 runs had been chased only seven times in ODIs. Twice India were the victors. But on this day, India faced their stiffest ask. At Lord's, they needed to overhaul England's 325 run-mountain to win the NatWest series. A win predictor would have shot them down at 146/5 but the game stayed alive. First Yuvraj Singh and then Mohammad Kaif carried India to one of their most sensational victories in ODI cricket. Let's relive that golden day.
Trescothick-Hussain show
India and England qualified for the final of this triangular series that also involved Sri Lanka. English captain Nasser Hussain won the toss and opted to bat first on a pretty-looking Lord's pitch. After the loss of Nick Knight, Marcus Trescothick and Hussain started to dominate the Indian bowling. Boundaries kept coming freely as England maintained their run rate around six, daunting for that time.
Trescothick reached his century in just 89 balls while adding 185 runs with the captain. Hussain also brought up his ton later and famously pointed to number three printed on the back of his shirt. He had been criticised for his performance at that batting position. Andrew Flintoff's 40 from 32 balls helped England go past 300. India fought back with late wickets but still faced a mammoth total of 325 runs.
A successful attack, a fatal fall
The opening pair of Virender Sehwag and captain Sourav Ganguly had no reservations about what their strategy was going to be. After adding 56 runs in the first 9 overs, the duo hit top gear to bring up India's hundred in 13 overs. Ganguly thumped Flintoff through the offside while Sehwag welcomed Ronnie Irani with four fours in his first over. The duo added 106 runs in just 87 balls to set India off a flying start.
England managed to remove both the openers in quick succession. Ganguly (60) fell to Tudor while Sehwag (45) was bowled while attempting a late cut off Ashley Giles. Number three Dinesh Mongia was caught down the legside and Rahul Dravid handed an easy catch to short mid-wicket. Irani claimed both of them. Sachin Tendulkar began with a sweeping four off Giles but lost his stumps to the same bowler while attempting a horizontal stroke. India fell from 106/0 to 146/5. With half the side gone, many lost all their hopes.
A dream partnership
When Mohammad Kaif joined Yuvraj Singh at the crease, India needed 180 runs from 156 balls with only the tail to come. The 22-year old and 21-year old batsmen were not short of belief. The pair kept rotating the strike and started eating into the target slowly. Both Yuvraj and Kaif did not miss any boundary opportunities while climbing the hill. Yuvraj reached his fifty in style as he struck three consecutive boundaries off Flintoff. In the very next over, Kaif hit Alex Tudor for a six and a four although his captain had advised him to deal in singles and give the strike to Yuvraj.
The drama
While the Indians were running away with the game, it was Paul Collingwood who brought the home side back into the contention. Yuvraj Singh fell for 69 after he had added 121 with Kaif. Harbhajan's cameo of 15 (13) with Kaif firing at the other end brought the target down to 12 from 16 balls. Now Flintoff rose to the occasion and took two wickets in three balls to leave India in a delicate situation.
Kaif battled against Darren Gough in the penultimate over. His boundary off the last ball of the 49th over left the target just two runs away from India. However, it was Zaheer Khan who was facing the fire. Flintoff's fiery pace registered two dot balls in the final over as India grew nervous. Zaheer fended the third ball to extra cover and set off for a run. Kaif had to dive to make his ground but the throw missed the stumps entirely. Spotting an opportunity, the batsmen scampered for another run and sealed a sensational victory. As Lord's erupted in humongous cheers, Sourav Ganguly took off his jersey and waved it from the balcony to match Flintoff's previous efforts. It remains one of the most iconic moments in the history of Indian cricket.
Why so special?
India have won two ODI World Cups, one T20I World Cup and at least three major multi-nation (four teams or more) ODI tournaments. And yet, winning this tri-series ranks amongst India's finest cricket moments. Maybe it was because India's new generation scripted the win after they had lost their stellar batsmen. Or for the fact that this was India's only victory in a tournament final from 1999 to 2005. And if nothing else, for Ganguly's act of defiance which challenged the norms as he always had. For what you may choose, it still drives emotions and glorious memories, that NatWest final.