On this day: Jim Laker creates history at Old Trafford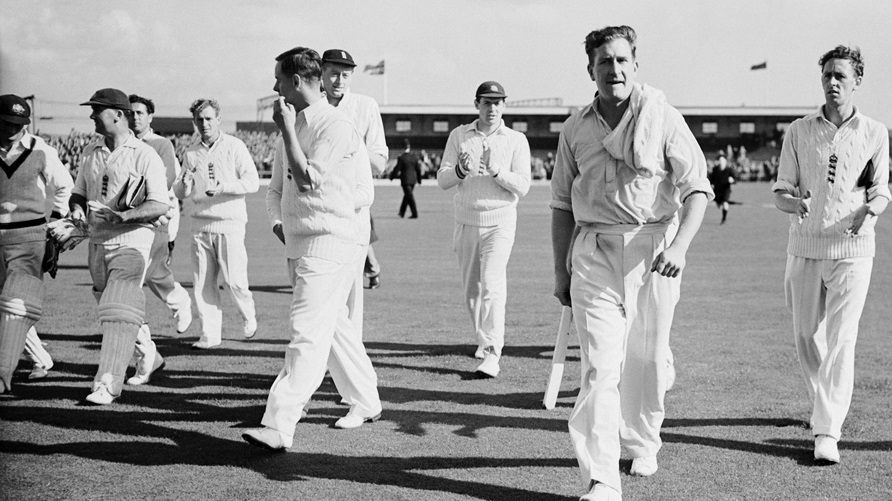 "Which of these records is the most difficult to break?", a question that pops up from time to time. Invariably, one of the options to this is Jim Laker's 19 wickets in a Test. The unbelievable feat was achieved on 31st July 1956 in Old Trafford, Manchester. The off-spinner claimed 9/37 in the first innings and 10/53 in the second to come the closest to registering the perfect bowling performance.
The first miracle
The Ashes of 1956 was squared 1-1 as the teams arrived in Manchester. Australia were already apprehensive about the dry pitch prepared to aid the spinners. England captain Peter May won the toss and chose to bat first. Opener Peter Richardson and David Sheppard celebrated centuries to post 459 all out. Australian openers reached 48/0 until came the crashing point.
Laker snapped the first two wickets to leave Australia at 48/2. His spin partner, Tony Lock dismissed Jim Burke at the other end. This was to be the only non-Laker wicket in Australia's both innings. Laker was unstoppable in his spell as the visitors crashed from 48/0 to 84 all out. The off-spinner finished with the best bowling figures in Ashes – 9/37. His last nine overs produced the figures of 9/16.
Ten out of ten
Australia followed on and lost their first wicket on the second day itself, which went undoubtedly to Laker. Rain spoiled the play for the next two days. The visitors resumed the final day on 84/2 with the intention to play out the whole day. Laker and Lock used all their skills to bag wickets but only one of them was successful. Australia in their second innings faced 150.2 overs. Lock delivered 55 of them to finish with the figures of 0/69. Laker, who bowled 51.2 overs, took 10/53 – the first-ever instance of a bowler taking all ten wickets in an international match.
After his heroic feat, Laker was swamped by press and well-wishers. He did not leave the ground until 8 pm. On his way home, he stopped at a pub to have his dinner. The audience was busy watching the highlights of Laker's feats on the TV while the hero quietly devouring his dinner. Not the one to celebrate, Laker's reaction to taking the 19th wicket of the Test was to simply take his sweater from the umpire and amble off the ground.
The legacy
Since Laker's 10/53 in 1956, only one bowler has been able to emulate his performance. Anil Kumble took 10/74 against Pakistan in Delhi in 1999. Apart from Laker, 16 bowlers have taken nine wickets in an innings, falling just one short of perfect 10. The match tally of 19 wickets remains untouched. The closest contender was Sydney Barnes of England who had claimed 17/159 against South Africa in 1913.