On this day in 2005: Australia's last-wicket stand pull off a thrilling Ashes draw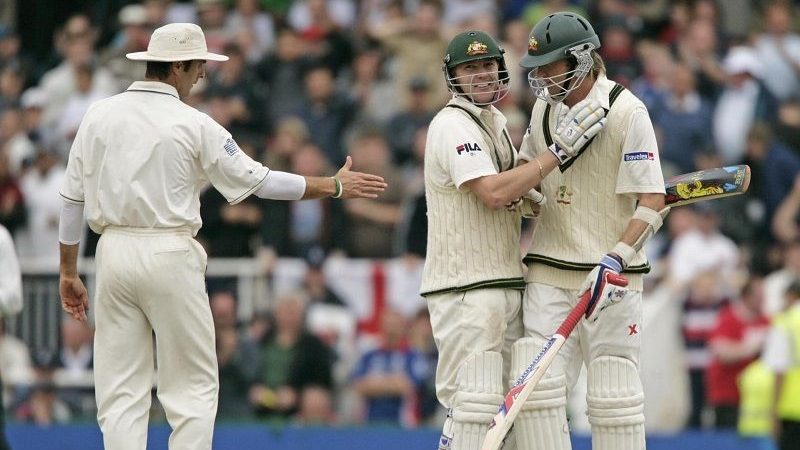 There is no doubt that the oldest format of the game produces some enthralling contests. Add to it the Ashes series and it further garners the audacity of the entire setting. England and Australia locked horns for the third Test at Manchester in 2005.
The Test match was full of drama and thrill. Right from Justin Langer's dismissal to Ricky Ponting's departure the match exuded some really tense moments. Andrew Flintoff scalped the crucial wickets of Simon Katich and Adam Gilchrist by toiling hard throughout the day. This eventually pinned the team's hopes on securing victory over the mighty Australians.
Brett Lee and Glenn McGrath pull off a thrilling draw
Ricky Ponting played a captain's knock to score a belligerent 156 to hold the fort of the team on the final day chasing a big total. He almost batted out the entire day for the Aussies until Steve Harmison bowled a short ball which Ponting looked to play on the onside but it went to the keeper and Billy Bowden raised his crooked finger. When Ponting was walking back to the pavilion it felt that all the hopes of Australia were walking back alongside him. As Australia was reduced to 354-9, the game was all left on the shoulders of the tail-enders.
But as they are renowned as the chin-up, chest out variety of mankind, the visitors weren't the ones to give up just yet. Brett Lee and Glenn McGrath stayed firm as they denied England victory. The duo survived the final 24 balls to sail the team to a draw at Old Trafford and brought an end to the extraordinary Test match. Both the tail-enders made sure that the series remained at the equation of 1-1 with two games to come.
That Australia celebrated the draw with immense joy and satisfaction, displays how the match was of fluctuating fortunes. The hosts were so close to a victory yet couldn't grab it. The fans were probably left with no nails to bite after having witnessed this exciting game. This was one classic Test match that the ardent cricket fans recount and are in awe of even today.