North Mumbai Panthers overcome SoBo Supersonics to become T20 Mumbai Champions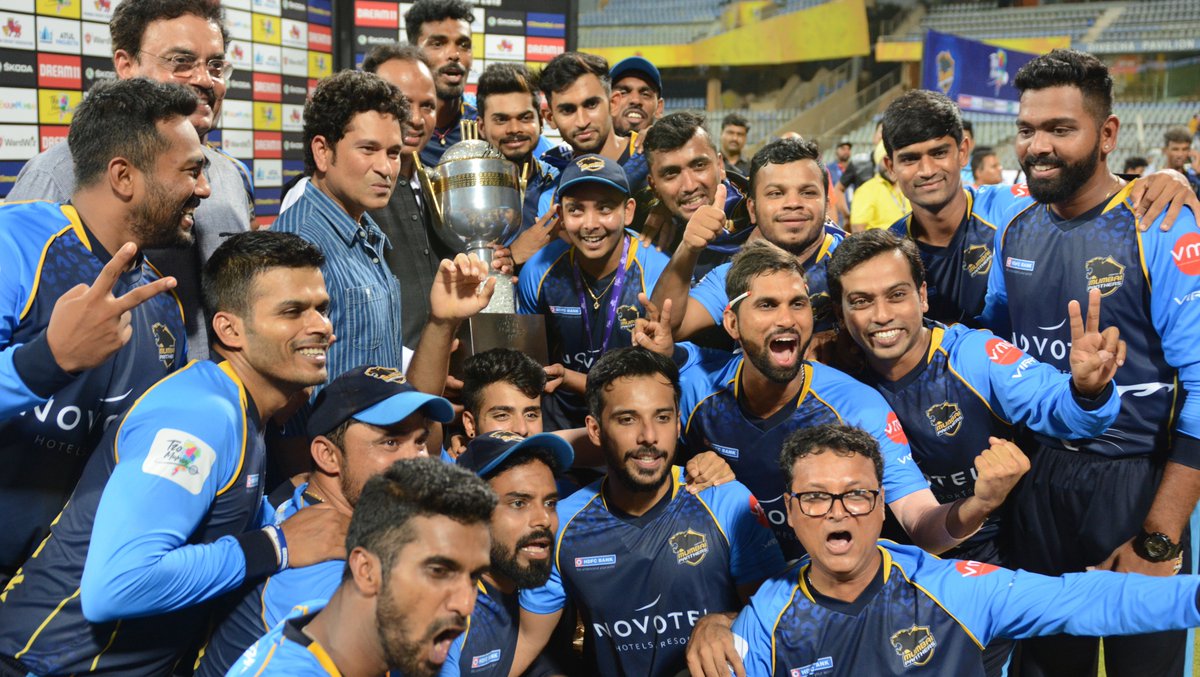 12 runs were all that separated the Champions and the runnner-ups in the final of the second season of T20 Mumbai at Wankhede Stadium. North Mumbai Panthers captain Prithvi Shaw trusted his 47-year old legspinner Pravin Tambe to bowl the final over against the tail of SoBo Supersonics. The leggie conceded only one run and dismissed both the remaining batsman to seal a spectacular victory for the Panthers. North Mumbai Panthers made their debut in the league this season.
Earlier in the night, Shaw won the toss and opted to bat first. His decision was perhaps influenced by the fact that Supersonics had raised a total of 214 while batting first in the semifinal on Saturday. Panthers had a disastrous start as they lost two wickets by the end of the second over. Shaw remained resolute on the crease and also attacked whenever the opportunity came his way.
The winning moment captured! 👏🏼@legytambe puts the final nail in the coffin ⚰@MumbaiCricAssoc #EkdumMumbai pic.twitter.com/4n4tvsPoc4

— T20 Mumbai (@T20Mumbai) May 26, 2019
Supersonics claimed four wickets in the Powerplay but failed to separate Shaw-Shashikant Kadam. The duo added 67 runs for the fifth wicket. After Kadam's fall, the mantle of run-scoring fell back onto the captain. Shaw remained not out till the end and scored 61 in 55 balls with three boundaries and two sixes. Deepak Shetty was the main striker for Supersonics with three wickets. The end total of 143/7 seemed inadequate against the Supersonics whose batting unit was in a stunning form.
In reply, the Yellow team lost their opener, Japjeet Randhawa, in the first over. Jay Bista and Hersh Tank stabilized the innings and brought the chase back on the track. Atif Attarwala's twin strikes left the Supersonics reeling but their batting depth helped them stay on the course. Parag Khanapurkar led the cause and with him at the crease, the title was firmly in the grip of SoBo team.
Prathmesh Dake then struck the crucial blows by removing Khanapurkar and Khizer Dafedar. The dismissals of Dhrumil Matkar and Rohan Raje sucked the life out of the chase and Panthers were on the top. Pravin Tambe then bowled the decisive over and North Mumbai Panthers celebrated the championship.
Winning captain Prithvi Shaw received the award for being the most valuable player of the tournament. Eagle Thane Strikers' Aditya Tare with 244 runs in five matches won the best batsman award while Dhrumil Matkar from SoBo Supersonics was adjudged the best bowler of the tournament for his tally of 15 wickets. Kruthik Hanagawadi was named as the best emerging player and Deepak Shetty won the best development player award.