MSK Prasad reveals real reason behind Rayudu snub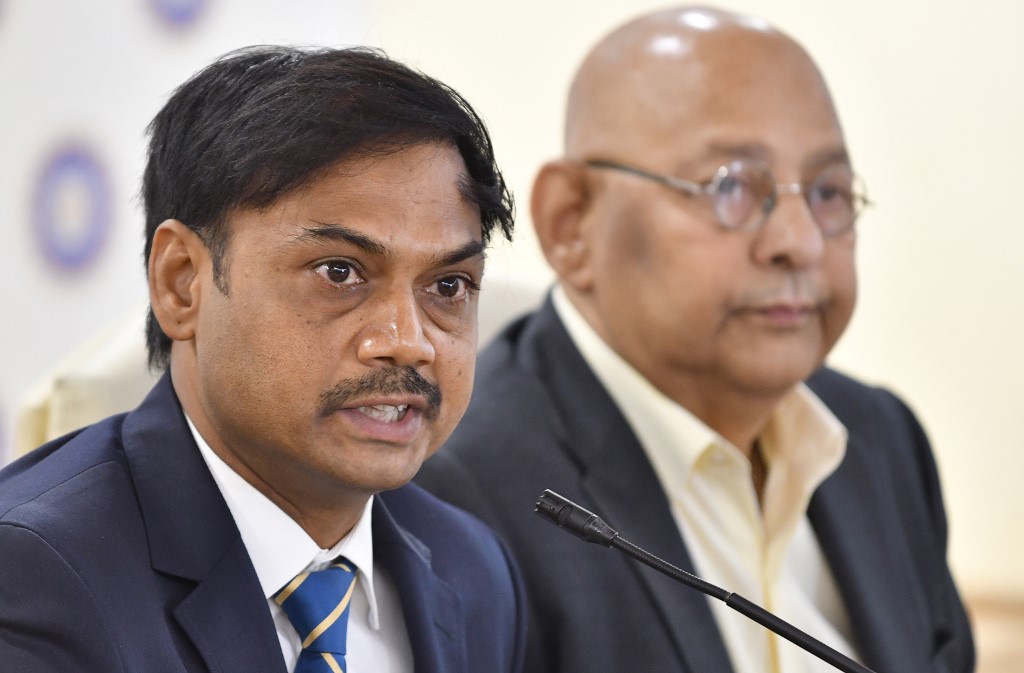 Chief Indian selector MSK Prasad on Sunday addressed the media at length after announcing India's squad for the upcoming tour of the West Indies. Team India is set to play two T20Is, 3 ODIs and 3 Tests against the West Indies starting August 3. With a few expected names and a couple of surprise picks, there were plenty of questions from the press for the selection committee.
But, questions weren't limited to the squads for the Caribbean. They dated back to India's World Cup squad selection when Ambati Rayudu, who was touted as a certain No.4 for India, eventually didn't find a place in the squad that was announced on April 15. When the selection committee preferred Tamil Nadu all-rounder Vijay Shankar over the experienced Rayudu, the latter lost his cool and displayed his resentment in a sarcastic tweet dated April 16.
Just Ordered a new set of 3d glasses to watch the world cup 😉😋..

— Ambati Rayudu (@RayuduAmbati) April 16, 2019
Back then, it was Prasad who stated that the management had found a "three-dimensional" player in Shankar and that was the reason he was chosen ahead of Rayudu. But even as India grappled with a couple of injuries during the World Cup, Rayudu never made the cut, not even as a replacement to the injured players. Opener Shikhar Dhawan was replaced by Rishabh Pant, while Shankar's injury led to Mayank Agarwal's call-up.  Unable to bear the axe from selectors, an emotional Rayudu immediately announced his retirement from all forms of cricket.
Clarifying the selectors' stance on Rayudu's exclusion, Prasad said there was no 'bias' in the decision and that the committee had previously backed Rayudu on a number of occasions.
"I will give you a small example on Rayudu. When Rayudu was picked on the basis of the 2017-18 T20 performance, we picked him in the one-day side, there was a lot of criticism but we had some thoughts about him. Subsequently, when he failed a fitness test, this selection committee backed him and we put him through a fitness programme for a month, and we ensured that he comes back fit and comes into the side. Once he came into the side we backed him, but due to certain permutations and combinations of the side, we couldn't pick him. That doesn't make this selection committee or me, in person, biased.

"I hope you will understand that there was a certain programme that was set to see that Rayudu should come into the side. There's nothing that we did against any particular person. So how much Rayudu is emotional, we are also emotional. We as ex-cricketers also feel for him. That's it, that's what I can say."
Fans and experts were also baffled when an opener (Dhawan) was replaced by a middle-order batsman (Pant) and an opening batsman (Agarwal) replaced an all-rounder (Shankar) during the tournament. Former Indian batsman Sunil Gavaskar was one of those. After India lost to New Zealand in the semi-final, Gavaskar said that an experienced Rayudu would've been the perfect fit for No.4.
MSK Prasad: When Rayadu was picked for ODIs on basis of his T20 performance,there was criticism,but we had some thoughts about him.When he failed fitness test,we put him for fitness program.Due to certain combinations he wasn't picked,it doesn't make Selection Committee biased. pic.twitter.com/IILJIRlWIr

— ANI (@ANI) July 21, 2019
But Prasad further explained the logic behind these decisions, saying they were made at the behest of the team management. Dhawan's departure as the only southpaw in the team meant that the team needed another left-handed batsman. KL Rahul, initially picked as a back-up opener then had to open the innings, which meant another back-up opener was needed.
"Since KL Rahul was going to open, the team management requested for a left-hander and we had no choice other than Pant. That's the reason why we had to bring in a left-hander, which actually confused many people thinking why a middle-order batsman has been picked for an opener."

"When Vijay Shankar was injured, again a middle-order player was injured, and an opener was brought in. In a game against England, when KL Rahul was trying for a catch, he had a big fall on the boundary line and he didn't field for the rest of the innings. There was a medical emergency at that stage whether he will be continuing or not. There was so much of worry factor. At that juncture, written communication was given to us that we need a back-up opener.

"We looked at some of the openers. Some were not in form, the others were injured. That is why we went for Mayank Agarwal. So that is very clear, no confusion on this. I'm sure by the end of the day all these speculations will be clear," he concluded.