Mankading dismissal in Under-19 World Cup sparks huge debate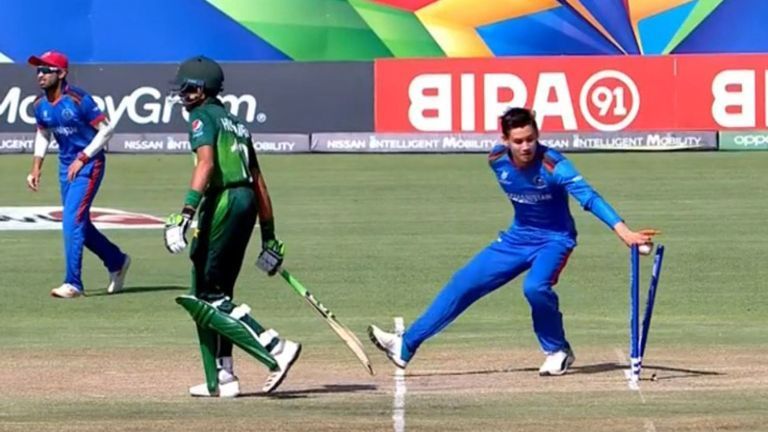 The fourth quarter-final of the Under-19 World Cup between Pakistan and Afghanistan was a smooth affair for the former as they cruised to a six-wicket win at Willomoore Park, Benoni. Opener Mohammad Huraira top-scored for Pakistan with his knock of 64. However, it was the mode of his dismissal which divided the cricket world.
Afghan bowler Noor Ahmed, seeing Huraira leaving his crease prematurely, effected a run out at the bowler's end, known in cricketing vocabulary as 'Mankading'. Huraira was not pleased with the dismissal and walked back to the pavilion with disgust. Soon, the social media poured down on the incident and the cricketing world was abuzz with their stand on the mode of dismissal.
Thoughts? ? pic.twitter.com/0hvh48AZDu

— Wisden (@WisdenCricket) January 31, 2020
The opinions
England fast bowler James Anderson disagreed with 'Mankading' and appealed to ICC for outlawing it. He also engaged in banter with India's Ravichandran Ashwin. The off-spinner had similarly dismissed England's Jos Buttler in the IPL 2019.
Thoughts? ? pic.twitter.com/0hvh48AZDu

— Wisden (@WisdenCricket) January 31, 2020
Law removal might need some deliberation!! A Shredder might do the trick for now??? https://t.co/8z5TNT57kZ

— Ashwin Ravichandran (@ashwinravi99) February 1, 2020
India's former cricketer Mohammad Kaif did not like the prospect of effecting such a dismissal. However, Aakash Chopra did not agree with him.
On the contrary, @ICC has already looked into it multiple times and defined Laws accordingly. Isn't taking a start before the ball is bowled shortening the pitch to take unfair advantage for running between the wickets? https://t.co/m8XZRPE8AL

— Aakash Chopra (@cricketaakash) February 1, 2020
New Zealand all-rounder and much-loved cricketer for his quirky tweets, James Neesham also disliked the idea of 'Mankading'.
The only way I could see myself doing it is if I've already warned him and he continues to steal a ridiculous advantage, like 2 meters. https://t.co/cU0zWHS6Gg

— Jimmy Neesham (@JimmyNeesh) February 1, 2020
In the end, the batsman himself acknowledged his mistake and stated that he will learn from his mistake.
Classy response from Mohammad Huraira regarding the mankading incident "This was my first game so it was a bit of a bitter experience, but I will learn from my mistake as I should have been in the crease and I will ensure that it will not happen again" #U19CWC #Cricket

— Saj Sadiq (@Saj_PakPassion) January 31, 2020