Kings at home – India's incredible home Test domination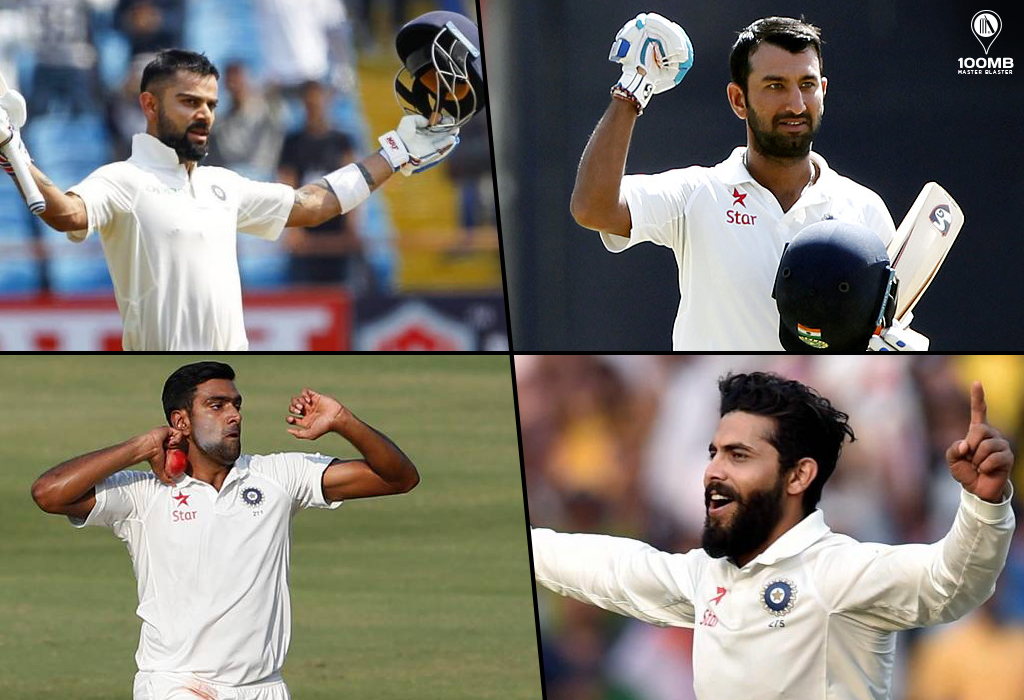 In Test cricket, every nation is a fortress in itself. It's a challenge for the opposition to enter the guarded territory, prevail in conditions that the opposition knows better and come out victorious against all odds. It's no mystery why home advantage is of a great benefit in Test cricket. In a sport where the conditions, the pitch and its behaviour plays a fundamental role, home advantage reigns supreme. In recent times, India have been an impregnable fortress in home Tests.
On dusty turning tracks, the Asian giants have mauled every opposition that has come their way. With spectacular batting from the likes of Virat Kohli and Cheteshwar Pujara and bamboozling bowling from R Ashwin and Ravindra Jadeja, India have been a superpower at home. With a South African challenge coming up, this is a good time to remember just how good India currently are on home grounds.
The impeccable home record
Make no mistake, India were a force at home for many preceding years. The records inform us that from November 1987 to February 1999, India did not lose a Test series at home. The team regularly strung together such long defeatless patches with a singular loss spoiling the streak. Australia in 2004 and England in 2012 were those spoilers.
It's clear from the above graphic that the recent domination is far more aggressive and outright. Since the defeat in 2012, India have won every series played at home. They have thrashed Australia 4-0 (4 Tests), South Africa 3-0 (4 Tests) and England 4-0 (5 Tests) in this spectacular victorious march. In this period, they have lost only one Test. Since 2013, they stand out in that aspect.
The pillars of stellar performance
Trial by spin
Since inception, spin has been India's strongest department. The tradition of legendary spinners has continued in this era as well. The current Indian mainstays in Test cricket are Ravichandran Ashwin and Ravindra Jadeja. The duo in tandem has broken through every batting unit that has visited the Indian shores.
With 180 wickets in just 56 outings, Ashwin leads the tally for India. The off-spinner with his armoury of variations has been phenomenal on the surfaces that have offered great turn. His best series performance was against South Africa in 2015 where the spinner took 31 wickets in four Test matches. Ashwin will be eyeing a few records in this upcoming series against the same opponents.
Left-arm spinner Ravindra Jadeja has been a great support for Ashwin in these conditions. Playing dual roles of a wicket-taker and a run-stopping bowler, Jadeja has excelled beyond expectations. His frugal economy of 2.20 at home since 2013 is unmatched amongst his peers. His impact helped him secure a place ahead of Ashwin in the recent West Indies Test series.
The run-machines
India faced one of their most difficult transition phases when legends like Sachin Tendulkar, Rahul Dravid, VVS Laxman, Virender Sehwag trudged away from the team. However, Virat Kohli and Cheteshwar Pujara have shown enough mettle to count themselves as able replacements. Both have scored around 2500 runs in this unbeaten home patch.
With 2,590 runs in just 27 Tests, Kohli leads the tally for India at home since 2013. Averaging 68.15, the Indian captain has smashed nine centuries at home. Staggeringly five of these were double centuries. Pujara has been the perfect foil for his captain. The number three has averaged 59.21 while celebrating seven centuries. Unsurprisingly, he has faced more balls than any other Indian batsman. His 525-ball 202 against Australia at Ranchi was his standout performance.
Upcoming opportunities
With more emphasis on the 2020 T20 World Cup, the Indian team has more limited-overs fixtures than the five-day game. However, as part of the World Test Championship, the Asian giants will be facing South Africa (3 Tests) and Bangladesh (2 Tests) in 2019-20 cycle. Without AB de Villiers, Hashim Amla and Dale Steyn to rely upon, South Africa will not be a daunting opposition for this Indian side. Two Tests against Bangladesh will be another opportunity for India to extend their home reign. India plays no home Test in 2020.