India vs Pakistan at World Cups: An unparalleled rivalry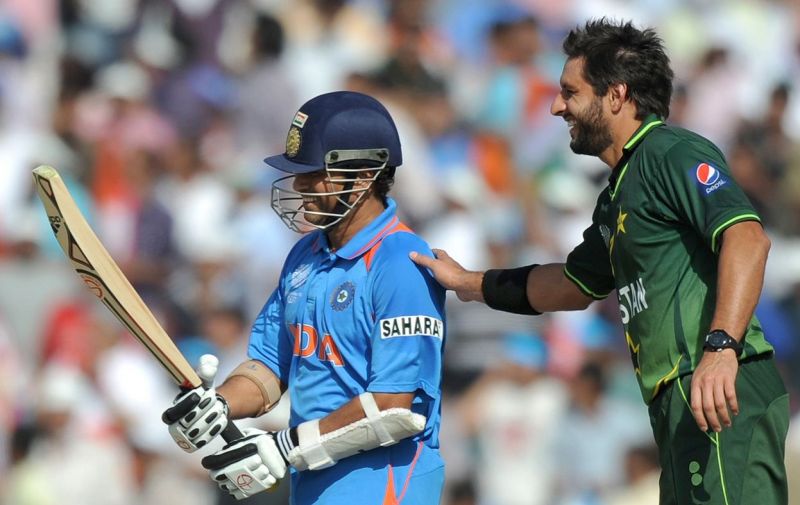 India vs Pakistan – two nations, one of the greatest on-field rivalries in modern-day cricket. Every time an Indo-Pak clash is on the cards, the fervour in both countries reaches another level. There's more than just a cricket match at stake. It's the passion, the emotion that takes centre stage. Especially at the world's biggest cricketing extravaganza, the ICC Cricket World Cup.
At this year's World Cup in England, India will once again take on their arch-rivals Pakistan on June 16. This will be the 7th encounter between these two sides. All previous 6 contests have been won by India. Here's a brief history of all how the rivalry has panned out over the years.
Match 1: 1992, Man of the match – Sachin Tendulkar
Fun fact: Both India and Pakistan never faced each other for the first 4 editions of the World Cup.
The first time these two teams played against each other at a World Cup was in 1992. Pakistan went on to win their maiden World Cup title, but India won a World Cup of its own in the league match against them.
Playing at the Sydney Cricket Ground, Indian captain Mohd. Azharuddin won the toss and elected to bat first. Despite a poor start, skipper Azhar (32) alongside Ajay Jadeja (46) steadied the ship for India. Jadeja was dismissed when India's total reached 101, and in walked the batsman everyone was waiting for, Sachin Tendulkar. His 54 not out meant that India were inching closer to a respectable total. Kapil Dev's helpful cameo (35 off 26 balls) took India to 216 in 49 overs.
Later, Kapil and Manoj Prabhakar made good use of the pitch, picking up 2 crucial wickets for just 17 runs. But Pakistan's Aamir Sohail (62) and Javed Miandad (40) dug deep and stitched an important partnership. Runs were coming at a slow pace, but the Indian bowlers were getting increasingly worried in search of a breakthrough. They finally turned to Tendulkar, who dismissed Sohail and turned the game in India's favour. Pakistan could not recover after and were all out for 173. India won the match by 43 runs, and that was the start of India's domination over Pakistan at World Cups!
Match 2: 1996, Man of the Match – Navjot Singh Sidhu
This one was a tense quarter-final at Bengaluru. One one hand, there was the pressure of a knockout game. On the other, a solid opponent. Captain Azhar won the toss and elected to bat yet again. Openers Tendulkar (31) and Navjot Singh Sidhu (93) gave India a flying start, but the middle order failed to rise to the occasion. India were 226 for the loss of 5 wickets. Jadeja then came in and smashed the Pakistani bowlers, scoring 45 runs in just 25 balls. His quickfire cameo took India to 287/8.
Pakistan too got off to a flying start with an 84-run opening stand. But it was after they crossed 100 runs that one of the most memorable incidents took place. Aamir Sohail (55 runs off 46 balls) plundered Venkatesh Prasad for a boundary. In the heat of the moment, Sohail pointed his bat to Prasad. An agitated Prasad bowled the next delivery and knocked off Sohail's off stump. It was a huge setback for Pakistan, who then went on to lose the match. Both Prasad and Anil Kumble bagged three wickets each.
Match 3: 1999, Man of the match – Venkatesh Prasad
It was the fourth match of the Super Six stage at Manchester and the third successive World Cup clash between India and Pakistan. Once again, India opted to bat first after winning the toss. Though, this was a low-scoring encounter. Rahul Dravid top-scored with 61, while captain Azhar made 59 runs. Sachin scored 45 and India managed to put up 227 in 50 overs.
There was a fair bit of cloud cover over Manchester that day and India benefitted hugely. Venkatesh Prasad and Javagal Srinath both picked up 3 wickets. The former continued his ferocious form from the last World Cup. His 9.3 overs featured two maidens, 27 runs and 5 wickets, including the important scalp of Inzamam-ul-Haq.
Match 4: 2003, Man of the match – Sachin Tendulkar
Indian legend Sachin Tendulkar played one of the finest innings of his career in this match. He missed his hundred by just 2 runs, but the 98 he scored has been etched in everyone's hearts forever. Pakistan won the toss for the first time against India in the World Cup and elected to bat first at Centurion. Saeed Anwar led the way with a brilliant knock of 101 and helped his team put up 273 runs on the board.
India needed a blistering start and their openers Virender Sehwag (21 off 14) and Tendulkar did just that by notching up 50 runs inside 6 overs. However, captain Sourav Ganguly was dismissed on a duck on the same score, following Sehwag in the dressing room. India needed Tendulkar to play steadily, but he was in a zone of his own. Mohd. Kaif (35 off 60) held fort at one end, while Tendulkar went berserk from the other. Pakistan celebrated when they got rid of him just when India were 99 runs short of victory. But their happiness was short-lived as Rahul Dravid (44*) and Yuvraj Singh (50*) made sure India cruised to a comfortable victory in the end.
Match 5: 2011, Man of the match – Sachin Tendulkar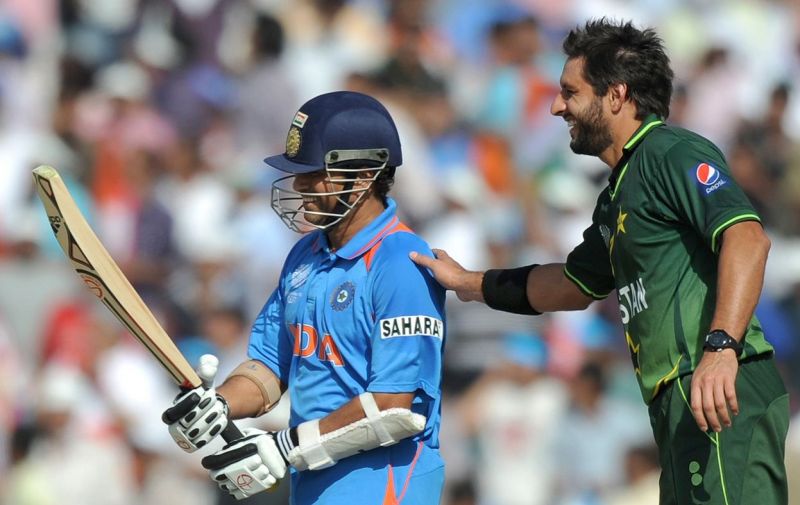 The 2007 edition of the World Cup did not feature a single Indo-Pak match. India were playing Pakistan after a gap of 8 years in 2011. It was the semi-final at Mohali. Captain MS Dhoni won the toss and opted to bat. Sehwag blazed off with four boundaries in one over of Umar Gul. Sachin, on the other hand, was busy digging deep in the crease. A fiery spell by Wahab Riaz (5/46) changed the face of the game. India were stuttering at 141/4, but Sachin was still batting. Making full use of the reprieve, he raced away to 85 before finally being caught out. India finished with 260/9 on the board.
Once again, Pakistan faltered under pressure and the Indian bowlers took full advantage of their weakness, each one adding a couple of wickets to their name. Misbah-ul-Haq kept the chase alive with his fighting 56, but it wasn't enough to take Pakistan through. They were all out for 231.
Match 6: 2015, Man of the match – Virat Kohli
Team India kicked off their 2015 World Cup campaign against Pakistan. Batting first, India lost Rohit Sharma early but his partner Shikhar Dhawan (73 off 76) stuck like a glue alongside Virat Kohli. The duo put up a 129-run partnership for the 2nd wicket, with Kohli scoring a magnificent 107. Suresh Raina then chipped in with a 56-ball 74 towards the end and propelled India to 300/7.
Misbah-ul-Haq was yet again Pakistan's saving grace, this time in a high-scoring game. But his knock of 76 went in vain as India clinched the one-sided contest with ease. Mohammed Shami registered impressive figures of 4-35 and Pakistan's innings was wrapped up on 224.