Fractured thumb, fractured dreams – Anrich Nortje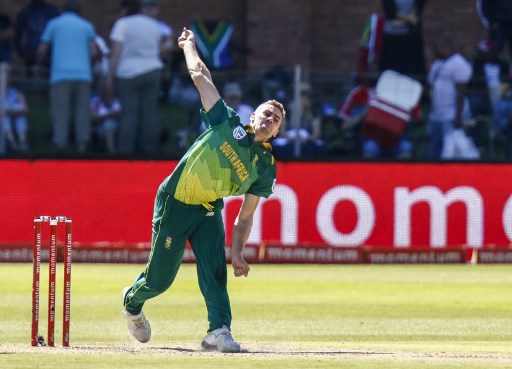 Four ODIs – that's all it took for Anrich Nortje to book his place in South African World Cup squad. On 17th April 2019, the South African Cricket Board announced their provisional 15-man squad for the upcoming global event. One of the names was of the 25-year old fast bowler from Eastern Province, Nortje. On 7th May, he was ruled out of the World Cup due to a fractured thumb. 
Rising through the

ranks
After many hassles, South Africa finally launched its city-based T20 league last November, the Mzansi Super League. While much attention was on AB de Villiers, there was excitement around Dale Steyn who played from Cape Town Blitz. By the end of the competition, it was Steyn's teammate who caught the fancy of cricket fans. 
Anrich Nortje played only three matches in the Mzansi Super League. He snared eight wickets at an average of 10.37 and was ruled out due to an ankle injury. His exploits in the league were enough to attract eyeballs despite pairing with Steyn. Nortje consistently bowled with speeds in excess of 150 kmph and troubled the batsmen with his immaculate lengths. These features converted him into a national prospect even though he had played in only three games. Add to that, the Eastern Province bowler's spectacular numbers in first-class cricket (47 matches, 162 wickets, bowling average 25.72).
Going international
Nortje made his international debut on 3rd March in an ODI against Sri Lanka in Johannesburg. He picked a solitary wicket of a tail-ender. In the next three matches, the fast bowler snared seven wickets and impressed the selectors. National coach, Ottis Gibson commented, "He's [Nortje] has come in and played here and done quite well…I thought he did really well in the series… Him bowling first change with his pace in those middle overs, he is surely a wicket-taker."
When South Africa declared their World Cup squad, they included Nortje. In a span of five months, the fast bowler impressed with his performances in the MSL, secured an IPL contract with the Kolkata Knight Riders, made his international debut and clinched a berth in the World Cup. It was as if the stars had aligned for him – only to be separated soon.
The fractured dreams
Nortje has studiously followed the pattern of performance and injury. He was impressive in the MSL and then suffered an ankle injury. He recovered and shone in his ODI debut against Sri Lanka. Even before he played his first T20I, Nortje was ruled out of the T20I series and IPL due to a shoulder injury. When he was on track to be fit for the World Cup, a fractured thumb in the net practice session forced him out of the tournament. 
Nortje's stocks skyrocketed the right time, but the injuries pulled him down. National call-up, IPL and the World Cup – he almost got them all but he didn't. Nortje's rise was meteoric and so was his fall. Hopefully, he will come back stronger and fitter.