Five reasons why Dinesh Karthik's commentary has been a breath of fresh air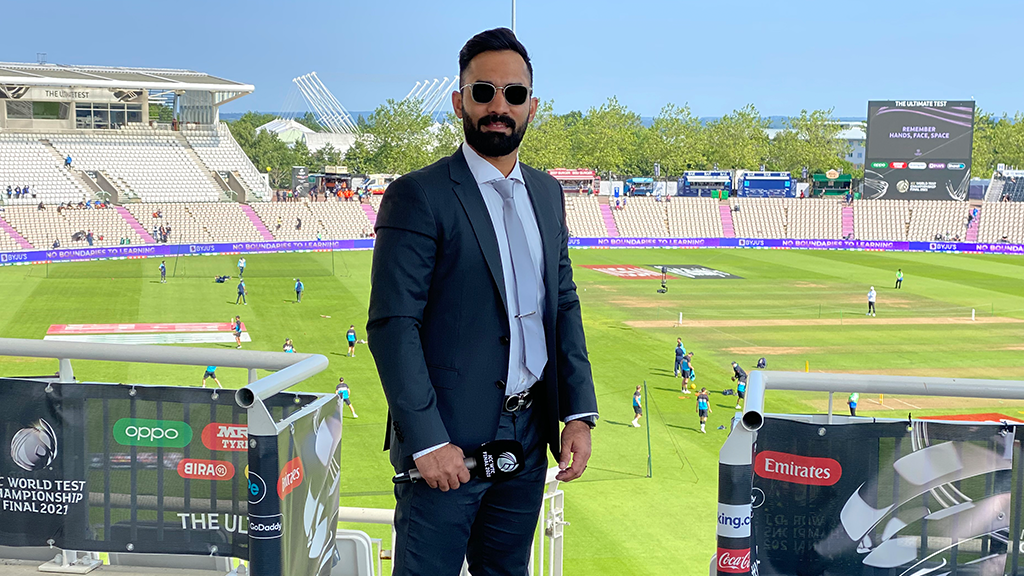 The World Test Championship final between India and New Zealand did not go India's way. And while Indian fans were not too pleased with the team's performance, there was a soothing factor they latched up on – Dinesh Karthik's commentary. The Indian cricketer joined the team of broadcasters and his style of commentary impressed one and all. Here are five reasons why his commentary stint earned a place in our hearts.
5. Explaining technicalities of the game without sounding complex
Cricket is a complex game with so many technical aspects involved. From the elbow's placement while playing a drive to the wrist position while delivering an outswinger, every bit of the action involves some technical know-how or the other. Being on air during the WTC final, Karthik delved into these topics without using jargon. His insights kept the audience hooked and earned much appreciation.
When Dinesh Karthik explains things, you love to hear. Gotta love and appreciate the way he's been commentating in the WTC final, absolutely brilliant.

— Mufaddal Vohra (@mufaddal_vohra) June 20, 2021
4. Not shying away from the banter
Karthik's competitive spirit along with his sense of humour was often on display. Sitting in the panel alongside Nasser Hussain, Simon Doull, Michael Atherton, Sunil Gavaskar and others, Karthik kept the mood joyous with his witty takes. For example, Hussain once praised Rohit Sharma for being a great puller and showcasing positive intent in his batting.
Karthik immediately quipped, "Yes, exactly the opposite of you".
3. Providing perspective of an active cricketer
The commentary box has been the go-to place for most of the former cricketers. With cricket changing so swiftly, sometimes they may not be fully equipped to comment on the modern aspects of the game. Being an active cricketer, Karthik provides a unique perspective. He has not only represented the nation at the highest level in all formats but also participates in India's various domestic tournaments. Thus he is in tune with the dynamic game.
Very impressed with @DineshKarthik's debut in the commentary box.

— Harsha Bhogle (@bhogleharsha) June 19, 2021
2. Taking pains to work on his commentary skills
When Karthik decided to make his foray into the commentary box, he did not take anything for granted. One of his journalist friends took to Twitter and revealed the story of how the Indian wicketkeeper-batsman prepared himself for the role and polished his skills.
When @DineshKarthik & I sat to discuss his foray into TV, the 1st thing he said was, 'I can't be an also ran' he took classes, did mocks, spoke to many who have done it, was ready to take feedback and work on it. No doubt he is adored. proud of you. #ICCWTCFinal @StarSportsIndia

— Wear Mask Stay Home Stay Safe (@cricketbalaji1) June 19, 2021
Karthik's dedication and his efforts bore fruit as his commentary received immense praise from all quarters.
1. Style quotient
How good has @DineshKarthik been on @SkyCricket for this series?!

His analysis is almost as good as his shirt 😍😂 #INDvENG

— Kate Cross (@katecross16) March 26, 2021
Apart from his on-air insights, Karthik earned a lot of fans with his styling sense and sharp look. In Southampton, the venue that hosted the WTC final, one fan showed up with a poster that had "DK's shirt appreciation club" written on it. Karthik, impressed by the effort, clicked a selfie with the fan.
The World Test Championship final may or may not have given ICC any valuable lesson but it has definitely helped the cricketing world unearth a fabulous commentator for the future. Here's Karthik himself recounting the memorable experience.
View this post on Instagram