Exclusive with Vinod Kambli – The unsung hero of 1993 Hero Cup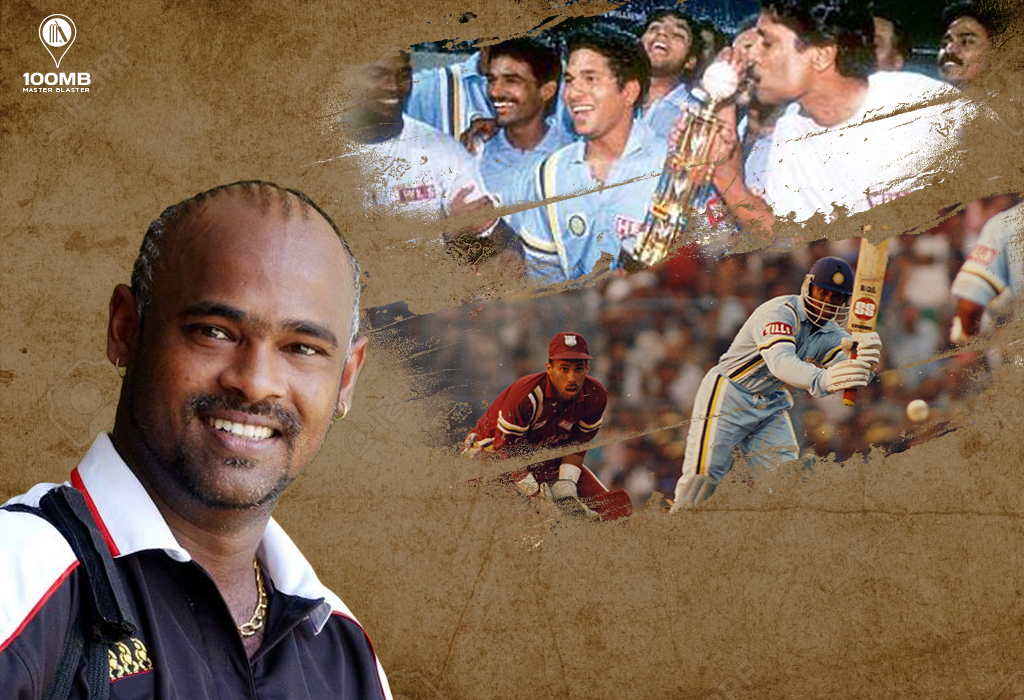 The Hero Cup 1993 marked a new age in Indian cricket. The greatest revolution was Star Sports taking the broadcasting rights from Doordarshan which led to a vast improvement in the quality of telecasting. The tournament also gave two most fondly remembered moments of Indian cricket's giants, Anil Kumble and Sachin Tendulkar. However, seldom do we remember the batsman who amassed 301 runs in six matches of the tournament with four fifties. We caught up with Vinod Kambli, who remains the unsung hero of this glittering competition.
Rising through the ranks with his glorious school-friend, 21-year old Kambli distinguished himself with two consecutive double-centuries in Test cricket in early 1993. Enjoying the blessed year, he strode into the five-nation tournament "Hero Cup" with a pile of runs behind him.
Q. What was your mindset going into this tournament?
Vinod Kambli: I had played in the 1992 World Cup and our team did not do so well in the tournament. Hero Cup was a huge tournament for us, and it was in India so we were under pressure to perform. The tournament had top teams like West Indies and South Africa who boasted of legendary players. But I was confident about my batting. My twin double-centuries in Tests gave me a lot of belief and I carried that form in this competition.
India won only one of their first three matches. Kambli had scored two fifties in these three games. India faced South Africa in the last group-stage encounter. Mohali hosted this match as India were inserted to bat first on a green deck. 
Q. Your memories from that South Africa match?
Kambli: This was the first-ever ODI at Mohali and we were served with a green top. With Allan Donald, Fanie de Villiers, Richard Snell, Brian McMillan and Pat Symcox as a spinner, the South Africans had one of the best bowling attacks of the tournament. Facing them on this green deck was a challenge and I gladly accepted it.
I scored 86 in that match and we won the game by 43 runs. Kapil Paaji handed me the Man of the Match award after the match and lifted me there and then. He realised the value and importance of that knock against such a bowling attack. I also remember taking a lap on the bike was awarded to me but I never saw it again after that lap (Laughs).
India qualified for the semi-final and South Africa stood in their way once again. The home side managed only 195 runs at the Eden Gardens. South Africa needed only 6 runs to win from the last over. In a bold move, Sachin Tendulkar stepped up to bowl the decisive over.
Q. Tell us about that final over from Sachin.
Kambli: Before that final over began, I could see the spectators leaving the ground. But after the first two balls, everyone returned and it was once again a full-house. Sachin conceded only three runs in that magical over. I think that over gave us the confidence that we can go on and win the final.
#OnThisDay in 1993 Hero Cup SF@sachin_rt's Magical Final Over V SouthAfrica.
SA Needed Just 6 Runs & 2 Wickets in hand.
Sachin Tendulkar came to bowl the last over Gave Just 3 Runs.
Sachin's Over-
49.1 – 1+(W)
49.2 – 0
49.3 – 0
49.4 – 1
49.5 – 0
49.6 – 1pic.twitter.com/7ADs9wx6BF

— CrickeTendulkar 🇮🇳 FC (@CrickeTendulkar) November 24, 2019
West Indies won the second semi-final and arrived at Eden Gardens for the tournament final. India batted first and soon lost Manoj Prabhakar at the score of 25 as Kambli walked out to bat.
Q. You top-scored in the final with 68 while none other got past 38.
Kambli: I began that innings with a straight drive off Curtly Ambrose. I think that was the shot of the tournament for me. It was going very well and I was looking forward to a ton but I got run out, unfortunately.
India collapsed in the final after Kambli's wicket and finished at 225/7 after being 161/3 at one stage. West Indies lost Phil Simmons early but Brian Lara was in a different mood. Once again, it was up to Sachin to turn things around.
Q. Sachin then dismissed Lara which was a very important moment in the game, do you remember that?
Kambli: Yes, especially that celebration of Sachin! I remember it vividly. The wicket of Lara was enormous. And Sachin celebrated it with a punch. I asked him jokingly, "Boxing kar raha hai kya!" (Are you boxing?)
Q. And Anil Kumble just ran through the West Indian batting unit.
Kambli: The West Indians were clueless against him. 6 overs, 12 runs, 6 wickets! The ball was coming so fast off the track that batsmen had no time to pick him. It was a very memorable spell, one of his best.
Q. So what is the importance of 'Hero Cup' in your career?
Kambli: After losing out in the 1992 World Cup, it was a huge tournament for us. It was a very positive moment for the Indian team. Personally, my sweetest memory comes from Punjab. In Mohali, they have my name written as the Man of the Match. Whenever I go to Mohali, I feel happy to see my name etched there.
Q. India recently played a day-night Test. You were also a part of a day-night first-class fixture in India. What were your observations?
Kambli: I played in the 1997 Ranji Trophy final between Mumbai and Delhi which was played at Gwalior under lights. There was a lot of dew and we had to change the ball regularly. We did not have the pink ball then. The India-Bangladesh Test was a great experience and the crowd turned up in enormous numbers as well.