Exclusive with Anshuman Rath – "Playing against India was the game-changer for me"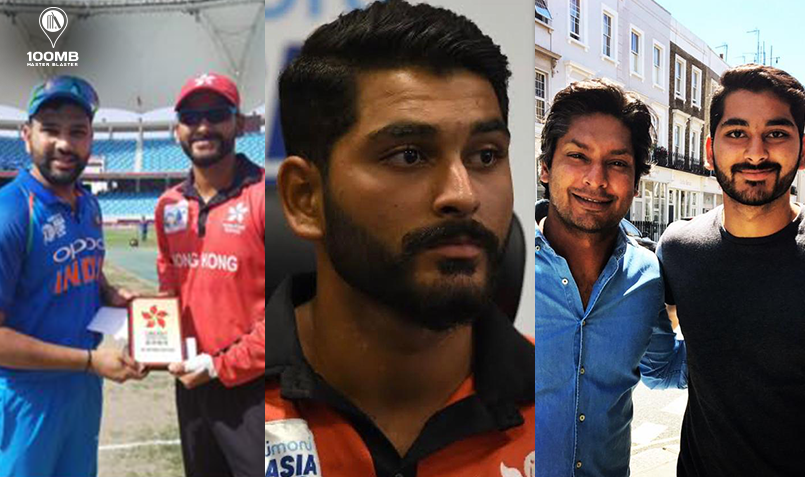 One of the most talented batsmen in Associate Cricket, 22-year old Anshuman Rath left Hong Kong to harbour the hope of representing India one day. He is currently serving the cooling-off period and is well set to soon play for Vidarbha in first-class cricket. While in lockdown, we caught up with the youngster to know more about his journey and career aspirations.
Q. You were playing for Hong Kong but now you are in India to play for India. You also played cricket at a young age in England, Why did you choose to play for India?
Anshuman Rath: I was brought up in the UK and did my schooling there. That's where my cricket flourished. I was hoping to have a contract with Middlesex but citizenship complications worsened the scenario. So, unfortunately, that opportunity was taken away from me. Middlesex tried very hard to have me on board but it did not materialise.
While things went well with the Hong Kong cricket team, I wanted to challenge myself. Hong Kong provided me with an amazing platform but from that platform, I wanted to push off and excel. The harsh reality is that the associate cricket can't provide that.
Q. Securing a place in the Indian cricket team is extremely challenging. How do you see your future shaping up in India?
AR: It is very important to stay optimistic but also realistic. I have set targets that are achievable over the next year. I will qualify as a local player from 1st September 2020. Then, I intend to break into the Vidarbha side. I have been playing club cricket here in Vidarbha and it has gone well so far. My future aspiration is to go on and play for India but as of now, I am focussing on earning a place in the Vidarbha team.
Q. What was your rationale behind opting for Vidarbha?
AR: Odisha was one option for me since my parents are from Odisha. While I was looking for other options, Prashant Vaidya (former India cricketer) raised his hand and offered me a tour of Vidarbha's cricket facilities. I was very impressed with their system. They have a very good youth side which is essential in the growth of the senior team. Their current side is wonderful and has a lot of homegrown players which is fascinating.
Q. What kind of support have you been getting from the local coaches and staff after moving to India?
AR: It's been amazing. I had not really lived in India before this so adjusting to Nagpur was quite challenging. But the support extended by local cricketing authorities was heart-warming. Prashant Vaidya and Subroto Banerjee (former India pacer) were helpful and forthcoming. I am also training with Amol Muzumdar in Mumbai and it has been very enlightening.
Q. In the 2018 Asia Cup, you scored a fine 73 against India. What impact did that knock have on your career?
AR: It started with the anthem. I was up for the challenge of playing against India but when India's national anthem started playing, it was an emotional moment for me. I had watched Indian cricket while growing up and my parents are Indian so it was a moving experience for me. Then that partnership (174 runs) with Nizakat (Khan), showed me that I had the skills but it was more about the mental aspect of the game.
I learned a lot from that game. Playing against India was the game-changer for me. It made me think – why should I not risk it? India is my native country and I thought it will be the right place for me to excel in my career.
"We didn't expect them to score a 174-run partnership" – Shikhar Dhawan all praise for Hong Kong's Nizakat Khan and Anshuman Rath.#HKvIND REACTION ⬇️https://t.co/z9tTs3bJZt pic.twitter.com/FRFRYJAJga

— ICC (@ICC) September 19, 2018
Q. What are your thoughts on the IPL (Indian Premier League)? How do you see it as a platform?
AR: I don't think it's a coincidence that India started winning more once the IPL was launched. It is a great platform for youngsters, it's of great entertainment value for the audience and it's a wonderful learning experience for the players involved. IPL has become the platform for breaking into the Indian team. The BCCI has been able to pay domestic cricketers handsomely because of the IPL. Hopefully, if everything goes right, I can't wait to be a part of it.
Q. And which IPL team will you like to play for?
AR: It's hard to develop a sense of loyalty for one particular team. While growing up I was a massive fan of MS Dhoni but once I entered the system, it was difficult for me to take up one team. I will be happy to play for any team that is willing to have me.
Q. You average 51.75 in ODI cricket but how do you rate Test cricket?
AR: One of the major reasons behind moving to India was to have a chance of playing Test cricket. It is of the ultimate test for me as a cricketer. I believe you can teach a Test cricketer to play T20 cricket but you can't teach a T20 cricketer to play Test cricket. Given the opportunity, I would love to work on my red-ball game and break into the Vidarbha team. They have a wonderful system in place for red-ball cricket as their recent record proves.
Q. Who are your cricketing role-models?
AR: I idolised two batsmen. First was Adam Gilchrist because of the way he batted and he is an amazing guy off the field as well. Kumar Sangakkara is my other inspiration.
Q. How are you maintaining fitness in the current lockdown situation?
AR: I have a personal trainer who has assigned me home workouts which I am performing on my terrace. I am keeping fit, that's not an issue for me but what I am missing is playing a lot of cricket balls. I feel sometimes we as cricketers put ourselves under a lot of pressure so a month away from cricket is not the worst thing. I now have time to focus on other things which I cannot otherwise.
Q. MS Dhoni or Virat Kohli, pick one.
AR: MS Dhoni.
Q. India or Hong Kong?
AR: Right now, India.
Q. ODIs or Test cricket?
AR: Tests.
Q. Money or respect?
AR: Respect.
Q. Favourite food –  Chinese, Italian or Indian?
AR: I love Chinese food.
Q. Facebook or Instagram, favourite social media application?
AR: Instagram