Exclusive: Sachin's thoughts on India's maiden pink-ball Test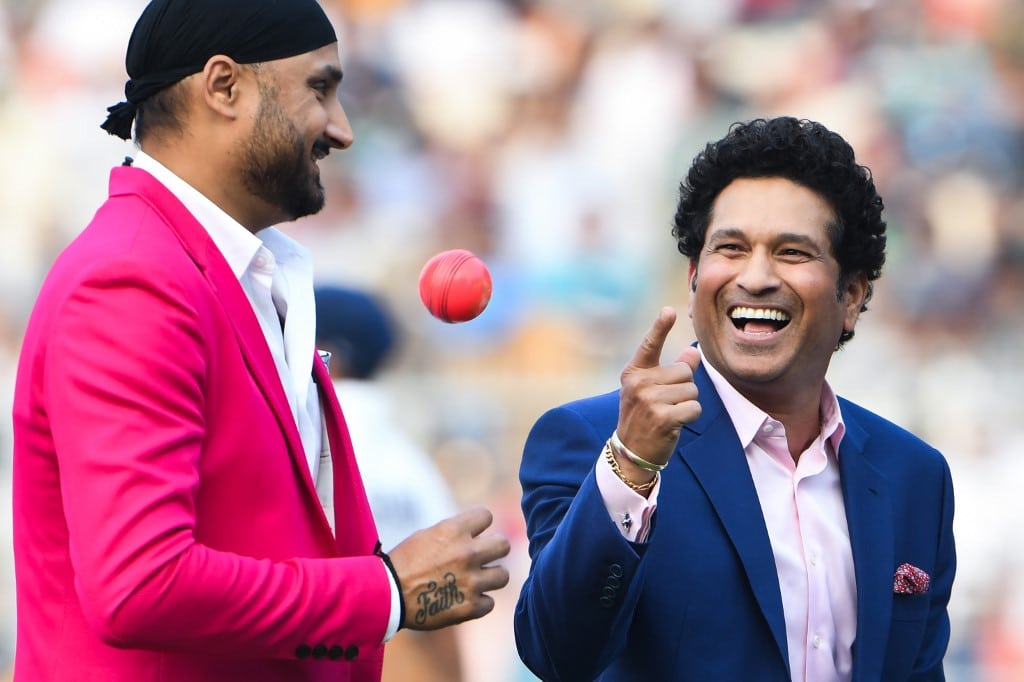 The first-ever day-night Test on Indian soil was a resounding success. The stands at Eden Gardens in Kolkata were jam-packed. The action was thrilling. And India continued their dominant run in the longest format with another series victory against Bangladesh.
Master Blaster Sachin Tendulkar was amongst the esteemed guests present at the venue, soaking in the unique experience. He was left impressed with the sheer buzz created by the occasion and India's performance during the Test match.
In an exclusive chat with 100MB, he shares his thoughts on India's maiden day-night Test:
On his experience of the pink-ball Test in Kolkata…
The people in Kolkata thronged the Eden Gardens, creating a vociferous atmosphere. Sachin expected nothing less from the City of Joy.
"The experience to go to Kolkata is always good because when it comes to filling the stands, you know that it's going to happen for sure. The first day-night Test with the pink ball created a lot of buzz," he said.
Sachin also heaped praise on new BCCI President Sourav Ganguly for his initiative of making day-night Tests a reality in India.
"All credit to Sourav and the rest of the new team at BCCI who have been instrumental in expediting these things. I know that earlier there was a discussion, but nobody was sure whether we were going ahead with that or not. But with this Test match under the belt, we can proudly say that we've been able to conduct the first Test and the response was magnificent. A full stadium always creates its own buzz, the whole atmosphere. And Kolkata was no different to whatever I've experienced earlier."
On hearing the 'Sachin, Sachin' chants in the stadium again…
The crowd went wild when Sachin first appeared during the match. Chants of 'Sachin, Sachin' echoed throughout the stadium and the Master Blaster was grateful for the reception.
"You don't think anything. You just go out and enjoy it. When you start thinking, then there is a problem. But you just soak it in and keep it natural."
On Indian pacers wreaking havoc…
The Indian pacers were in sensational form on a helpful surface at the Eden Gardens. Together, they picked up 19 wickets in the contest, virtually leaving the spin department out of the equation. A few years ago, such a feat was unimaginable on Indian surfaces.
"I think the Indian bowlers have really bowled well. The Bangladesh batters have really struggled to manage their hostility, their barrage of 140+ deliveries, where the ball is bouncing and doing something off the seam."
On lateral movement in the second session…
Sachin made an astute observation that cooler grass temperatures were responsible for the lateral movement on offer in the post-lunch session. The pacers were extracting extra movement off the surface during the second session, with the batsmen finding them tough to negotiate.
"In Kolkata, I felt there was some lateral movement but more so in the second session. Because I checked, when the sun started going down, we did a so-called lunch show because it's not exactly lunchtime. It was kind of in between, which actually if you look at a normal Test match, was the post-tea-time session. And in my conversation with Virat, with Ravi and all these guys, I said, I've just checked the temperature, the grass has just started to cool. On a cooler grass, there is going to be lateral movement. And the second session is actually the most critical session."
On his advice to Virat Kohli…
On Day 2, Indian skipper Virat Kohli decided to declare the innings on 347-9 in the second session. Despite Wriddhiman Saha and Mohammed Shami still batting, Kohli took the aggressive route and decided to go on the hunt for wickets. The decision paid rich dividends as Ishant Sharma got a couple of breakthroughs before the end of the session to put the hosts in a commanding position. Kohli's move was partly inspired by Sachin's advice, which encouraged him to go for an early declaration. On his conversation with the Indian skipper, Sachin said:
"I said, if we are 8 down, you don't need to waste those critical 6-7 overs. You might as well declare instead of scoring those 10-15 extra runs. You give them 6 overs to bat in those conditions, you'll end up picking 3 or 4 important wickets and that is what apparently Virat said. It was just my suggestion that if I'm captaining, if I have to take a call, I would declare. I would not ask my number 10 and number 11 to score those 15 extra runs. I would much rather use that time to pick 3 top-order batsmen's wickets."