Exclusive interview with Rajasthan Royals' fielding coach Dishant Yagnik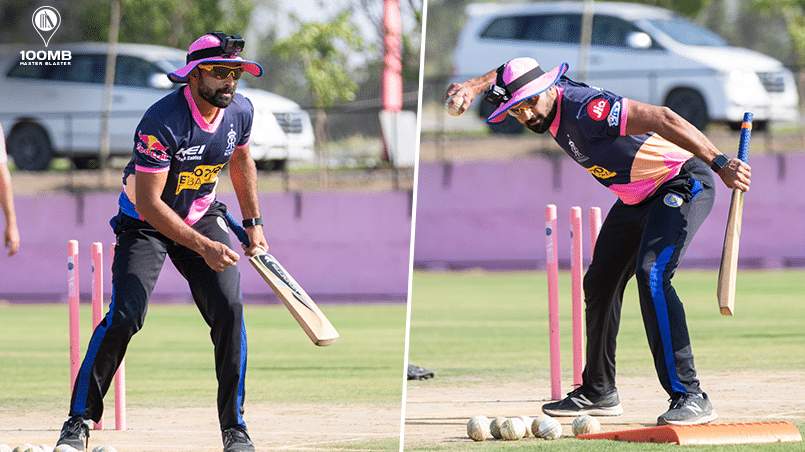 Inaugural IPL champions Rajasthan Royals returned to the IPL in 2018 after serving a two-year ban. The team management went through a transformation with fresh thoughts and increased expectations. Prior to IPL 11, Rajasthan Royals' former wicketkeeper-batsman Dishant Yagnik joined the entourage as a fielding coach and is still going strong. Yagnik represented the Jaipur-based side as a player from 2011 to 2015 and featured in 25 matches. We at 100MB caught up with him to know more about his team's fielding culture and how they are coping up with the lockdown:
Question: With the lockdown in place, what advice are you giving to your players for staying fit?
Dishant Yagnik: Rajasthan Royals team had two camps before the lockdown. So the fitness and conditioning coaches are working according to the data we gathered. We have asked our players to practice at home every day with a tennis ball to maintain their fielding habits. We are in touch with our players and are ensuring their fitness levels.
Question: What fitness schedule are Rajasthan Royals following during the lockdown?
Dishant Yagnik: At this time, the players optimising whatever fitness items they have at home. Our fitness coaches are communicating with the players and are assigning them a workout schedule according to their body types. All the players are following their respective fitness schedules and the coaches are monitoring them. In the current situation, they may not be able to do a lot of cardio but they are doing weight training.
Question: And how are the players managing their diet?
Dishant Yagnik: The cricketers have become very diet-conscious in the last 3-4 years. As a fielding coach, even I am not allowed to cheat on my diet. A lot of care has to be taken. We cut down heavily on sugar, especially at home. Since we do not have the means of burning calories at present, we have to be careful about what we are eating. But the players are extremely professional and they know what to eat and what to avoid.
Question: How important is fielding in T20 cricket?
Dishant Yagnik: See, as cricket gets faster, the importance of fielding increases. A catch or a run-out can turn the match on its head. Even one good piece of fielding goes a long way in boosting the team's energy. Although the wicket will be credited to the bowler, the fielder has an equal share in it because he puts the pressure on the batsman. If you save 15-16 runs by fielding well, then you exert more pressure on the opposition. Therefore, fielding is very important in T20 cricket.
In the air!! ?
_____ takes it. ?#HallaBol | #RoyalsFamily | @Dishantyagnik77 | pic.twitter.com/biKkLnQuRc

— Rajasthan Royals (@rajasthanroyals) March 14, 2020
Question: There are so many foreign players in the IPL, is there any difference in their training and fielding technique?
Dishant Yagnik: No, I have not seen a vast difference. They are slightly faster, but I have not seen any difference in the technique. In fact, I like the fielding of the Indian team more. (Ravindra) Jadeja, (Ajinkya) Rahane or Virat (Kohli) are all excellent fielders. Our Rajasthan Royals team is full of wonderful fielders. Even in domestic cricket, there are many fielders who match the international level of fielding. Things have changed a lot in the last 3-4 years. I am a fielding coach and now player themselves come to me and ask for extra time for intense fielding training. That was rare in my playing days.
Question: You have played under the captaincy of Rahul Dravid in IPL, how was that experience?
Dishant Yagnik: It was a great experience, I was playing with cricketers whom I had seen only on TV. When I first entered the dressing room, Shane Warne was on my right, Rahul Bhai (Rahul Dravid) on my left and Shane Watson in front. At first, I could not believe it. When you observe their routines, you understand the difference between an ordinary player and a veteran. No matter what the situation may be, I have never seen these players miss a practice session.
Question: If the IPL happens this year, what are the chances of Rajasthan Royals winning the title?
Dishant Yagnik: Every team plays to win the title. If you see our performance in the last few years, then we have been poor only once or twice. Our performance throughout the IPL has been very consistent. We have managed to reach the playoffs regularly. But yes, we have not reached the finals for a long time. As a former player and a fielding coach, I think we have a good chance of winning the IPL this time with Steve Smith at the helm.
Question: How positive is the team management regarding the IPL event this year?
Dishant Yagnik: It all depends on the situation and BCCI. We are hoping that the coronavirus outbreak shall end soon. We wish that things will be back to normal and we can entertain people through cricket.
Question: IPL as a player or as a coaching staff?
Dishant Yagnik: As a player.
Question: Who is the best fielder from Rajasthan Royals?
Dishant Yagnik: Ben Stokes.
Question: Who sleeps a lot?
Dishant Yagnik: Oshane Thomas.
Question: Who eats the most?
Dishant Yagnik: Sanju Samson.
Question: Batting or wicketkeeping?
Dishant Yagnik: Wicketkeeping.
Question: Who talks the most?
Dishant Yagnik: I do.
Question: Your picks for India's top-3 fielders at present?
Dishant Yagnik: First is Ravindra Jadeja. Virat Kohli and Hardik Pandya jointly at second and Ajinkya Rahane at third.