Bowling the right Wrong-ones – Shreyas Gopal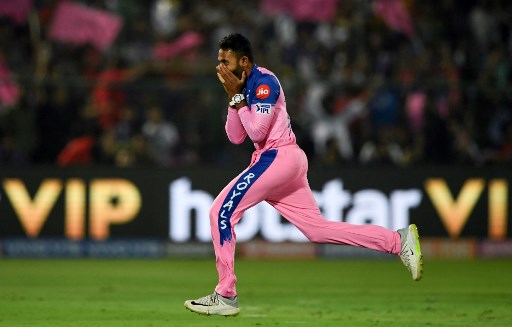 Virat Kohli, AB de Villiers, Kane Williamson, Jonny Bairstow, Rohit Sharma, Shikhar Dhawan. No, these aren't just the best batsmen in IPL, but some of the victims of young Shreyas Gopal this season. The Rajasthan Royals legspinner has not only taken the most wickets for his team, but also the most important ones.
With 18 wickets in 13 matches, Shreyas is third in the Purple Cap list behind Kagiso Rabada and Imran Tahir. In the rain-curtailed game against Royal Challengers Bangalore, the 25-year old picked up a hat-trick in the five-over game and demanded attention from all quarters. His record is too good for a middle-order batsman.
…
Making his first-class debut at the age of 20, Shreyas was included in the Karnataka team as a middle-order batsman who could bowl a bit of leg spin. He even batted at number three in his first match. But he made a greater impact with the ball and soon moulded himself into the lead spinner who batted in the lower-middle order.
In just six months after his first-class initiation, the Bengaluru boy was signed up by Mumbai Indians. MI's mentor at that time, Anil Kumble was behind that decision and he backed the youngster to come good. Although Shreyas played only six matches across three seasons, he learned a lot from India's most successful legspinner.
Moving from one leg-spin legend to another, Shreyas earned an opportunity to learn from the spin wizard himself. In 2018, Rajasthan Royals got the leggie onboard. This allowed him to spend time with the RR mentor, Shane Warne. Shreyas was awed by Warnie's tactical acumen and attention to detail.
Learning from the legends, Shreyas refined himself into a crafty legspinner. He also developed a well-disguised googly that has regularly broken the defences of the Kohlis and ABDs. In this IPL season, no other legspinner has bowled the wrong-un as many times as the RR twirler. Although he confesses that his googly is not as deadly as Rashid Khan's, it has worked wonders for him.
…
Rising above his team-mates, Shreyas has snared 18 wickets this season in 13 matches. This is a phenomenal improvement from his numbers in the 2018 outing – 11 wickets in 11 games. This year, his zipping googly delivered with a quick-arm action has befuddled the best of batsmen. A testament of his skill is that 15 of his 18 wickets have been top-order batsmen.
Unfortunately, Shreyas' finest moment occurred in a five-over match which ended in no result. He had already rattled RCB in the home encounter with the figures of 3/12, and the leggie was looking forward to doing the same at RCB's den.
Bowling the second over against Kohli batting in a ballistic fashion, Gopal conceded 12 runs in his first three balls. Next three balls read – W, W, W. He sent back Kohli, ABD and Stoinis on consecutive deliveries and completed his maiden hat-trick in the IPL. He registered the same bowling figures of 3/12, although the RR spinner bowled only one over this time.
With high chances of Rajasthan Royals not qualifying for the playoffs, Shreyas is likely to drop down in the wicket-takers list. However, the impact that he has generated will be cherished by fans. We will be waiting for his turn when he next confronts Virat Kohli and AB de Villiers.