Australian players afraid to sledge Kohli: Michael Clarke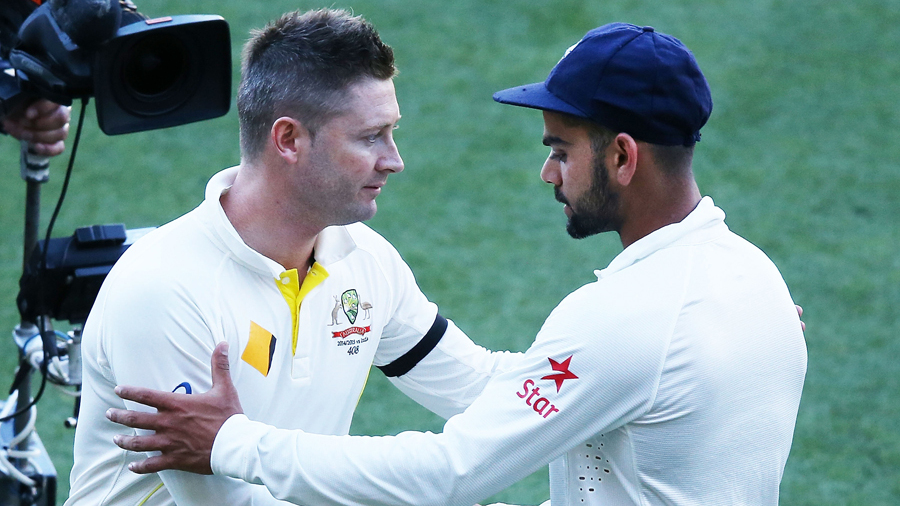 Former Australian captain Michael Clarke has claimed that the Australian players went soft on the Indian team and Virat Kohli during their 2-1 series loss at home in 2019-19. The reason for this according to Clarke was the fear of losing out on lucrative IPL contracts. India's Test series win was their first Down Under and was a historic occasion as they finally conquered unchartered territories.
Speaking to Big Sports Express, Clarke said:
"Everybody knows how powerful India are in regards to the financial part of the game, internationally or domestically with the IPL. I feel that Australian cricket, and probably every other team over a little period, went the opposite and actually sucked up to India. They were too scared to sledge Kohli or the other Indian players because they had to play with them in April."
Further elaborating on his point, Clarke explained that the top Australian players generally fetch the big bucks during IPL auctions. He stated that they would not be willing to risk the big money by getting into a tangle with the highly influential Indian skipper.
"Name a list of ten players and they are bidding for these Australian players to get into their IPL team. The players were like: 'I'm not going to sledge Kohli, I want him to pick me for Bangalore so I can make my $1 million US for my six weeks'. I feel like that's where Australia went through that little phase where our cricket became a little bit softer or not as hard as we're accustomed to seeing."
The auctions in 2019 for the 2020 season was no different as many of the Australian superstars became some of the highest-paid cricketers in the world. Pat Cummins (15.50 crores), Glenn Maxwell (10.75 crores) and Nathan Coulter-Nile (8 crores) were some of the Australians who earned big-money contracts.