Aussie pacer Peter Siddle calls time on international career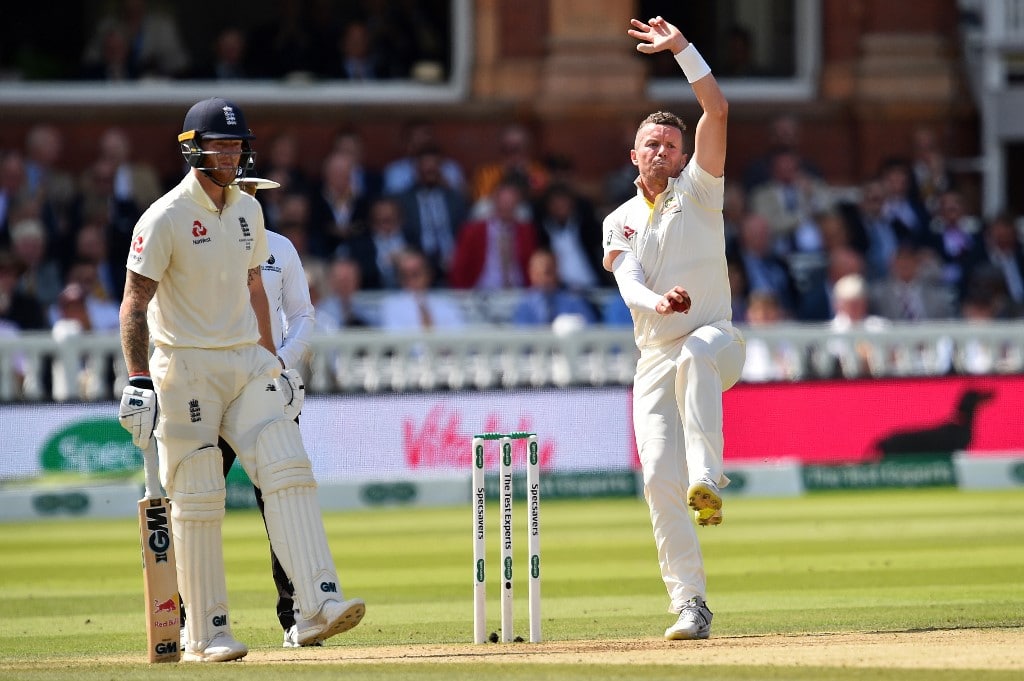 Veteran Australia fast bowler Peter Siddle announced his retirement from international cricket, ending a 11-year long career. The pacer was last seen wearing the baggy green in Australia's fifth Ashes Test against England earlier this year.
A lion-hearted bowler with bounce and hostility on offer, Siddle played 67 Tests for Australia and picked up 220 wickets at an average of 30.66. He has been a vital cog in Victoria's domestic setup, having played 176 first-class games with 603 wickets to his name so far. Siddle made his international debut for Australia in the 2008 Test against India at Mohali, where he dismissed batting legend Sachin Tendulkar to register his maiden Test wicket.
"JL, Painey and I, we chatted about it early on in the Ashes series, there was a possibility [of finishing in England]," Siddle said on Sunday.

"But there was a bit of back-and-forth about the chances of maybe being able to do it back home if things fall into place. I was pretty content to do it over there, but that small, little hope that maybe I might get a chance back in Australia in front of family and friends, I was happy to take the gamble and see if it happened."
Congratulations to Peter Siddle, a champion of our game, who has today announced his retirement from international cricket. He finished with 221 Test wickets, including a memorable Ashes hat-trick on his birthday at the Gabba. Thanks for the memories Sidds! pic.twitter.com/Rl8UChz8pI

— Cricket Australia (@CricketAus) December 28, 2019
The Soul of Australia's bowling attack
The Victorian went on to become a consistent presence in the Aussie Test attack, often being used as a 'workhorse' bowler unleashing long spells. Frequent injuries to the back and the shoulder kept Siddle out of action from time to time but the pacer returned to impress on most occasions. One such memorable comeback was the 2010-11 Ashes, where he celebrated his 26th birthday by picking up a Test hat-trick at the Gabba. Siddle was also instrumental in Australia's 5-0 clean-sweep over England in 2013-14, bagging a total of 33 combined wickets in consecutive Ashes series.
"There's many different reasons that helped me have a bit more longevity. Definitely my lifestyle changes have helped, they've played a big part, and who knows. But I definitely count them as a big part of why I'm still playing now," he said.

"It's not about how long you can play your career, but after that I'm going to have a long life retired and not play cricket. So I want to make sure I'm healthy then, want to live my life and live it to the fullest."
The 2019 Ashes in England was Siddle's final appearance in the longer format, whereas he last played an ODI in 2018 January against India. He has also played a couple of T20 internationals for Australia. Australia skipper Tim Paine was all praise for Siddle.
"Sids has been the heart and soul of the team for a long time," Paine said.

"I remember coming up through with him through the academies and even back then he was one of the great team men, something he has continued to this day."

"He has a massive heart and is a fantastic bowler. He'll be very much missed around the group. He's been unbelievably good for our younger fast bowlers over the last 18 months and been a great support for me during that time, as well," he added.
1/2. The end of an era and time to hang up my hat.

An honour and a privilege to don Baggy Green No.403 for Australia for so long. ? pic.twitter.com/aHZfK7JPxe

— Peter Siddle (@petersiddle403) December 30, 2019
"Four overs a lot nicer on the body"
Siddle will continue to be a regular feature in domestic cricket, including Australia's premier T20 tournament, the Big Bash League, where he represents the Adelaide Strikers. He will be part of the Victorian side in the Sheffield Shield and also play for Essex in county cricket.
"Part of the reason I do still want to play is that I love playing with young guys, seeing them evolve, seeing them develop as cricketers. If I can play a role even a little bit in helping out the next generation then I want to be able to. I've been able to do it with Victoria, I've done it a lot with Essex over the last couple of years and I've enjoyed it," he said.